Winslow High cross-country team celebrates competition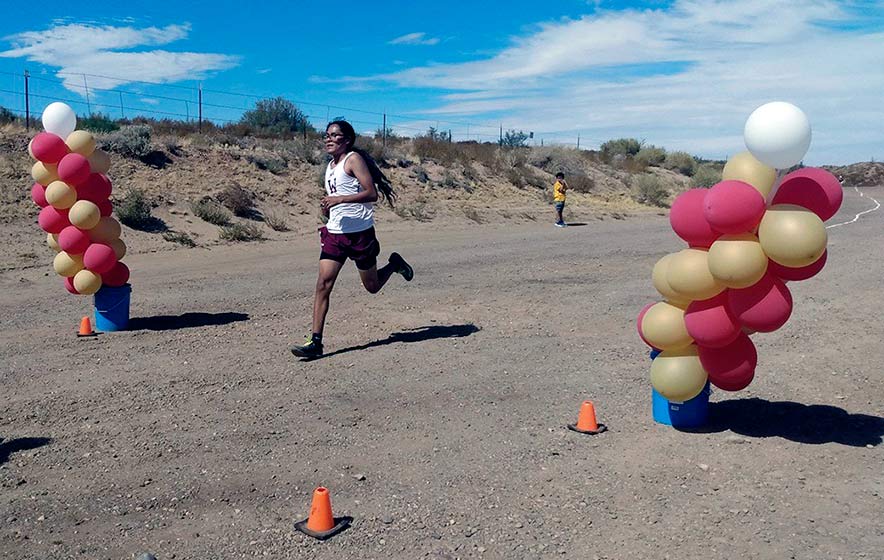 WINSLOW
The Dave Conatser 24th Invitational race, held annually at McHood Park Clear Creek Reservoir, was Winslow's cross-country team's fourth race of the season. Their varsity boys came in third place overall with 106 points behind Northland Preparatory (73 points) and Snowflake (24 points).
The nine competing schools were Holbrook, Show Low, Snowflake, Blue Ridge, Sedona Red Rock, Northland Preparatory, Joseph City, Coconino and Winslow.
There were only four races to be run that day: a 5,000 meter open run for both boys and girls and a 5,000 meter run for varsity boys and girls.
It was warm on the day of the race, with low overcast clouds and a gentle breeze. However, the course was anything but gentle. In fact, most of the athletes at the race called it challenging.
With a sudden decline a few yards from the starting line, a hill to traverse, sandy spots to navigate, and running through hip-high reeds, the 5,000-meter race pushed most of the athletes to their limits.
Lindsey Becenti is a senior varsity runner and was the first to finish for the Winslow girls. From the get-go, the race proved to be a challenge.
"In the beginning, it was hard because you have to start off pretty quick to get to the right place in between the rocks," she said, referring to the small rocky crags that protrude from the ground.
Fellow varsity member Riley Davila, a returning junior, concurred with the assessment. Davila was the second Winslow runner to cross the line.
"It was tough, especially it's on a hot day, and we're running by the water, so it's very humid," Davila said. "But, you really just got to push yourself, especially on the hills."
Difficult as it was, the run, and cross-country in general, is a good sport in Davila's opinion.
"It teaches you a lot mentally and helps you with endurance, it helps you with learning and it's really challenging," she said. "Especially when you want to give up and you have a whole another mile or two ahead of you, its good to keep pushing."
The Winslow team had a late start with training, most not having trained with their friends since spring.
Their first official training session was in the last week of August, but with some members still out on the Navajo Nation, the team wouldn't be able to train with them or even see them until the day of the race.
Most of the time, Winslow runners from the Navajo Nation received training instructions from over the phone, but there's nothing like training in a team.
Wilburt Barton, head coach for Winslow High's cross-country boys, has been working to help his team get better.
"Like I said, we've been struggling a bit at the beginning of the season," Barton said. "We've just been trying to focus on getting our strength back because we've been out of synch at the start of the season, but we're gradually getting there."
The race and the course may be the same, but this season is not. Masks were a requirement, even among runners, as well as social distancing.
Each coach also had to check and make sure their runners were healthy before allowing them on site. The organizers also did all they could to discourage spectators, leaving a lot of open space around the courses.
Not having fans present was different, especially for the runners, according to varsity sophomore Raenna Becenti, the third Winslow runner to finish.
"I feel like if there were more people around, we could have done better, but since there is nobody around to cheer you on, it's a little harder, especially when having to wear a mask and social distance."
Lindsey Becenti is of a similar mind, but she is glad the precautions were in place.
"It's hard trying to make sure everyone is safe so that we can continue our season," Lindsey said. "It's challenging. It is different, but I'm happy that we have a season this year."
As the varsity teams prepped for their run, the Winslow team provided some music with one speaker hooked up to a phone as they played classic rock music from "Rock You Like A Hurricane" to "Hearts on Fire."
For the open race, the first 10 finishers received a medal. For the varsity race, medals went to the first 15 runners.
The first Winslow runner for boys' varsity and recipient of one such medal was junior Payton Nickolas, a runner who ran at state last year and whose team came in fifth. He liked the course well enough, but the run didn't feel the same without all of his friends there.
"Everybody, our whole team wasn't able to come because they're either not from Winslow or can't make it, so like our whole team couldn't come," he said. "So we're not able to have that whole team chemistry like whenever we go out for a workout."
But this doesn't damper Nickolas's enthusiasm.
"We'll do with what we have," he said. "But I think we got a pretty good team that could go to state."
The second Winslow runner behind Nickolas and the winner of a medal was junior Kylair Charlie, who wholly enjoyed his experience.
"I could have done a little better, but that's how I feel every time, even though I ran good, there's always room for improvement," he said.
"This is the first race that I ever ran where I felt comfortable running in varsity along with other great runners like Snowflake and others like them," Charlie continued. "It really opened my eyes to where I am and where I should be."
He is looking forward to his next race, where he is sure he'll get a better time.
As soon as the runners crossed the finish line they were instantly given their medal as the race was to be concluded as quickly and efficiently as possible.
When the last runner had crossed, there was little fanfare as everyone began packing up their team camps.
Overall, Barton thinks it was a good experience for his runners.
"I'm happy to see the smiles on their faces and the excitement they have, it puts excitement in all of us as well," Barton said. "But like I said, we've been really focusing on the health guidelines the AIA threw at us and the athletic director as well."
For senior Lindsey Becenti, the first girl runner to cross the finish line, it was a great run.
"Cross country is one of the best experiences I've ever had," she said. "I'm so happy I was able to join. It's challenging but a good challenge, and its nice being able to have a connection with the teammates and the coaches."
---