Transfer to Fort Lewis restores player's love of volleyball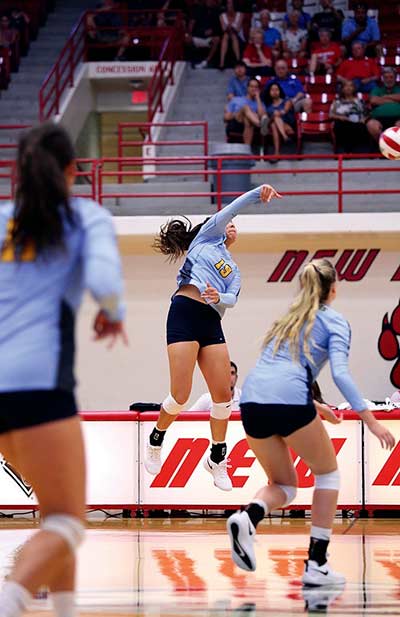 FRUITLAND
Ohiyah Shirley is not ready to stop dreaming.
Since she started playing college volleyball, the Kayenta, Arizona native has wanted to play in a collegiate national championship.
She tried to fulfill her dream at Northern Arizona University, but after two and a half seasons decided to change things up and has transferred to the Fort Lewis College in Durango, Colorado.
"For me, I have goals for myself," she said. "Just because things weren't going well at NAU, it doesn't mean I wanted to give up. I wanted to keep playing, I wanted to keep the mission going for myself to play in a national championship, whether it was in Division I or Division II."
Shirley, 21, will start her first season with the Skyhawks this fall as a junior outside hitter.
She spent the summer participating in exhibition matches, team workouts, practices, and camps.
Shirley said she wanted to find a home similar to the one she made in Flagstaff. She said she enjoyed the mountains and atmosphere but sought a change in all aspects of her life.
"I kind of wanted to get out of Flagstaff and find a new home for myself. I kind of grew up around there, so I just wanted to get out, explore, and see other options," she said. "It (Durango) is really similar to Flagstaff….also the team, they're amazing."
Shirley signed with Northern Arizona University in her senior year of high school at Monument Valley High School, where she graduated in 2015.
She said college volleyball was a lot different than she expected.
"At first it was kind of difficult, the temp was a lot faster from high school. The sets were way faster and the defensive systems were a lot faster," Shirley said. "Everything else was a lot faster. I had to really push myself to become the best I can be."
In her seasons at NAU, Shirley said she found herself supporting her teammates from the bench more than anything, which she enjoyed, but she also found herself wondering when it was her time to prove herself.
She said she wanted to help the team more than she already had.
"Playing wise, I didn't really play that much. I just played in preseason," she said. "In the regular season I hardly played, but I did my best."
After coming to a crossroad, Shirley said she decided to try her hand with another program and reached out to Fort Lewis last season.
She said she spoke with the former coach of FLC's volleyball team who ended up resigning shortly after.
She tried again when Fort Lewis College head coach Tricia Melfly come on board this past spring.
Melfly said she was more than happy to have Shirley.
"The good news is I'm lucky enough to have Ohiyah. The bad news is I wasn't the brilliant one who brought her in. I was just kind of given this blessing," Melfly said. "All I can say is I'm excited and honored that we do have her here at Fort Lewis, and excited to have the opportunity to work with her. You can go a long way with that kind of kid that has that kind of talent."
---