The fire within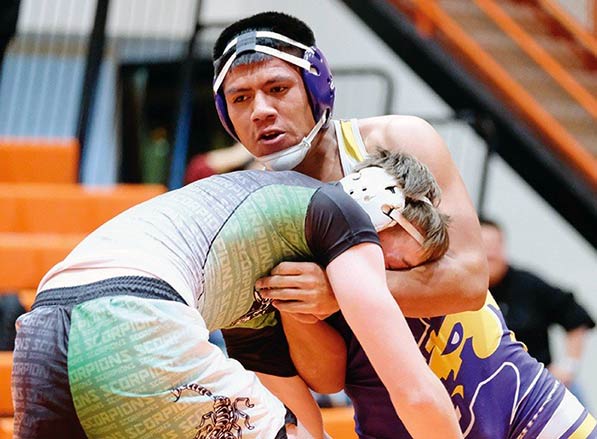 Only self-confidence stands in way of KC junior wrestler
FARMINGTON
There is only one person standing between Isaac Thomas and true success – himself.
The Kirtland Central junior wrestler had an injury that hindered his chances at a state title last season. Now healthier than ever Thomas faces another challenge.
Kirtland Central head coach John Sandoval said Thomas has most of the tools to be one of the best wrestlers in the state, except for the one tool that can't be learned.
"He's had a lot of success," Sandoval said. "I mean 27 matches, that's having a lot of success. You would think that as much as he's won that his confidence level would be through the roof, but it's still not, he still doubts himself, he doubts his ability.
"The ability's there, but it's all right here (points to his head)," he said. "If you believe in it, you can go out and do it."
For some athletes, gaining confidence is something they gain by seeing positive results, but it's not that simple in wrestling.
Last season, as sophomore, there were high hopes for Thomas and how he would finish at the state tournament.
Thomas started his sophomore season off 17-1 but suffered an injury to one ankle that left him out for about a month, and just before the state meet.
Sandoval said it was difficult for Thomas to bounce back.
"Conditioning is something that's huge in wrestling and he missed the whole month where he couldn't do anything on his ankle," he said. "When he finally came back from that, he was only two minutes into a match and he was already gassed.
"So he didn't meet, I know, my expectations and his expectations," he said. "When you're out for a month like that it's hard to come back and be successful."
---