Louisiana man wants to bring art back to rez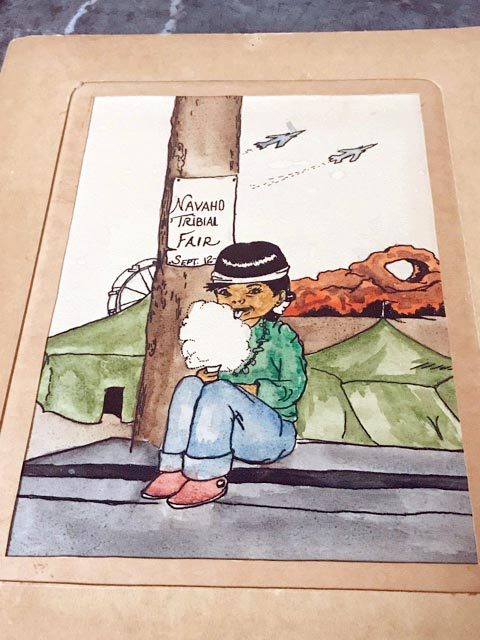 CHINLE
A Louisiana antiques dealer who acquired a collection of about 50 paintings and sketches by students and teachers at Chinle Boarding School wants to bring the art home for an exhibit.
But in the meantime, he wants to learn everything he can about it.
Ray Stevenson, proprietor of Big Mama's Antiques in Hosston, acquired the collection a few years back at an estate sale for a Mr. Pryor, an African-American who taught at Chinle Boarding School in the 1960s. The school no longer exists.
Stevenson, who is African-American, was attracted to the sale because he is an avid collector of African-American memorabilia that is often lost to history because it is overlooked by white collectors, who constitute the vast majority of antique dealers.
Stevenson bought the collection, which also contained a 1964 yearbook and a "homemade instrument kind of like a giant banjo," because he liked it.
After he got the paintings home and examined them more closely, he liked them even more.
"I was reading names like Begay, Bia, Slowtalker, and I thought, 'Those are Indian names. This art was done by little Indian children!'" Stevenson recalled. "That made it even more precious to me."
It occurred to Stevenson that the children who created the paintings would be in their 60s now, and may enjoy seeing them again. He is hoping to have them displayed at the Navajo Nation Museum next fall.
The problem is, Stevenson knows frustratingly little about this treasure trove, even though many of the artists must still be alive. The CBS alumni he tracked down couldn't tell him much.
If you're an alumnus or former teacher of Chinle Boarding School and can shed any light on the collection, Stevenson would love to hear from you. His number is 318-573-2127.
---