Crotty, advocate for the underdog, rises to Person of the Year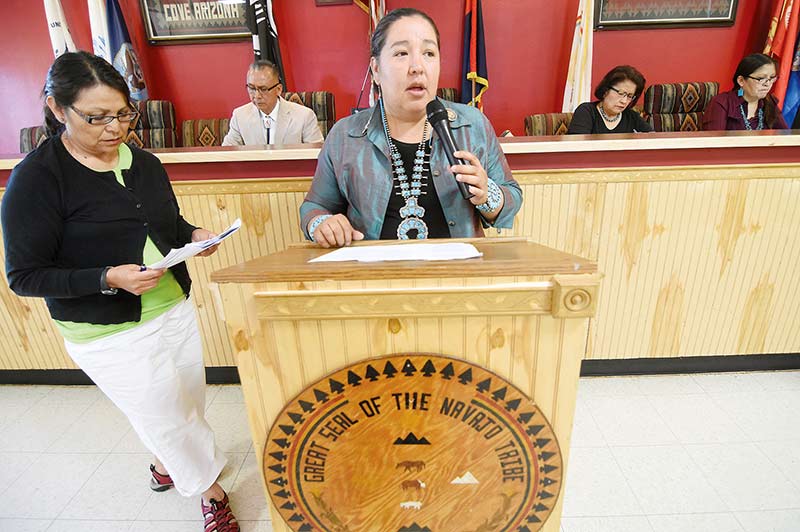 TUBA CITY
The Navajo Times names Amber Kanazbah Crotty as the 2017 Person of the Year, a title of acknowledgement for the person who embodies what was important about the year – for better or for worse.
This title goes to the 39-year-old progressive champion and the only female in the 23rd Navajo Nation Council.
In 2015, Crotty took the 9th slot on the Times' short list for Person of the Year. She turned up on the short list again last year, taking the 6th slot. This year, she topped the list formed by Times editors, journalists, and photographers.
In 2014, Crotty, who represents Beclabito, Gadiiahi/To'Koi, Red Valley, Sheep Springs, and Toadlena/Two Grey Hills, went head-to-head with Larry Duncan for a Council seat, but Duncan lost that November by 183 votes. Crotty took office on Jan. 13, 2015. And since then, she has been uncharacteristically outspoken in a system short on transparency.
Some of the highlights of her tenure are advocating for sexual assault victims and their families – something that the delegates brought to light on the Council floor.
One year, seven months and 26 days (as of today, Dec. 28) have passed since the abduction and murder of Ashlynne Mike. Crotty says this incident has turned the political conversation around, and also gave rise to how children are kept safe in Diné communities. "And how we continue to make sure that we reduce acts of violence against our own people by our own people," Crotty said recently. "That's been a major hurdle: The crisis that we are living on Navajo."
Another highlight of her legislative career is advocating for the older Diné people in vulnerable communities, said Crotty, who is also focused on youth development. Crotty helped created the Navajo Nation Advisory Youth Council, which was established on April 30. "Amber Crotty is a great choice for Person of the Year," said Navajo Times CEO-Publisher Tom Arviso Jr. "She is the only female on the mighty Council and she is a great delegate with strong beliefs, teachings, ethics, and she just cares about her Navajo people.
"Amber has to deal with so much more than just tribal politics," he added, "and the fact that she did raise her voice and concern about sexual harassment among all of the male Council delegates and tribal leaders, exemplifies her confidence, her strength as a Navajo woman."
---