New clinic will serve communities surrounding Page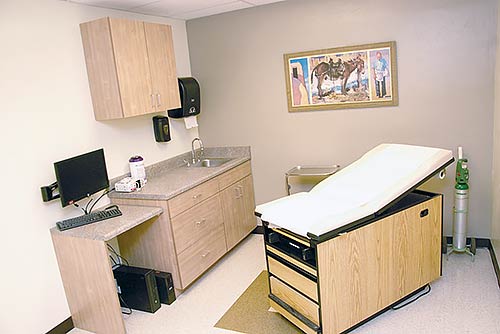 LECHEE, Ariz.
The Tuba City Regional Health Care Corp. on July 13 unveiled a new clinic that will serve not only the locals but also the nearby Lake Powell communities of Bitter Springs, Bodaway-Gap, Cedar Ridge, Coppermine, Kaibeto, and Page.
"We're here to bring the care to you, to make it accessible, to make it quality-care," TCRHCC CEO Lynette Bonar said on Monday morning on behalf of the 638 contract facility, which launched a mail-order pharmacy in late 2012 to expand services for American Indian beneficiaries living in the region.
"We built this facility to begin with because of the pharmacy," Bonar explained. "(Then) we started looking at the other side (of the building) and thought about what it would cost to renovate (the other portion). So we decided to go ahead and do it."
Though it was several years in the making, Bonar said the hardest part however was finding a physician for the $500,000, 46,000-square-foot facility.
"We believe this is a small beginning of what we have planned for this site," said TCRHCC CMO Dr. James Kyle. "But it is a beginning. This has taken longer than we wanted it to take."


---