Middle school names library after Code Talker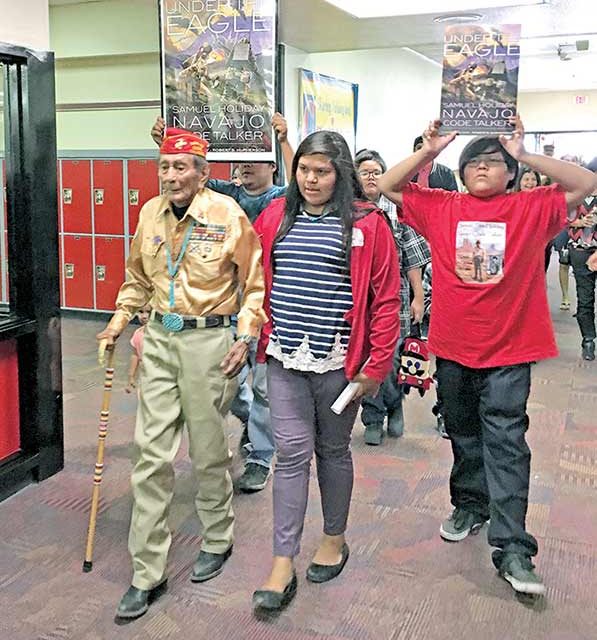 KAYENTA
It was one of those things they had always planned to do some day, but nobody ever got around to setting a date.
Finally, last Friday, it happened: Kayenta Middle School officially named its library the Samuel T. Holiday Library and Media Center.
It's an appropriate honor, noted his daughter, Helena Begay, because her father is not only a Code Talker but a published author. His autobiography with Robert McPherson, "Under the Eagle," is available in the library, and Begay urged the youth at the naming ceremony to check it out and "learn about the Code Talkers so you can tell others."
The 93-year-old veteran himself waxed a bit melancholy in his speech to the excited, flag-waving student body, perhaps wanting them to be a little more somber when celebrating war heroes.
"I see beautiful children here," he said. "I see a lot of smiles. I think of all the (Japanese) soldiers who died, and all their wives and children."
Holiday's daughter Carol Todecheene, director of transportation for the Kayenta Unified School District, explained that her father was feeling "sentimental" because "he got some bad news this morning." Holiday had just learned that he had lost his brother.
According to librarian Chris Hampton, the impetus to name the library after the local hero came from Marsha Whitehair, student council advisor, but Whitehair said other people had also had the idea. This year's student council really took on the initiative, she said.