Holbrook softball maintains top seed for 3A East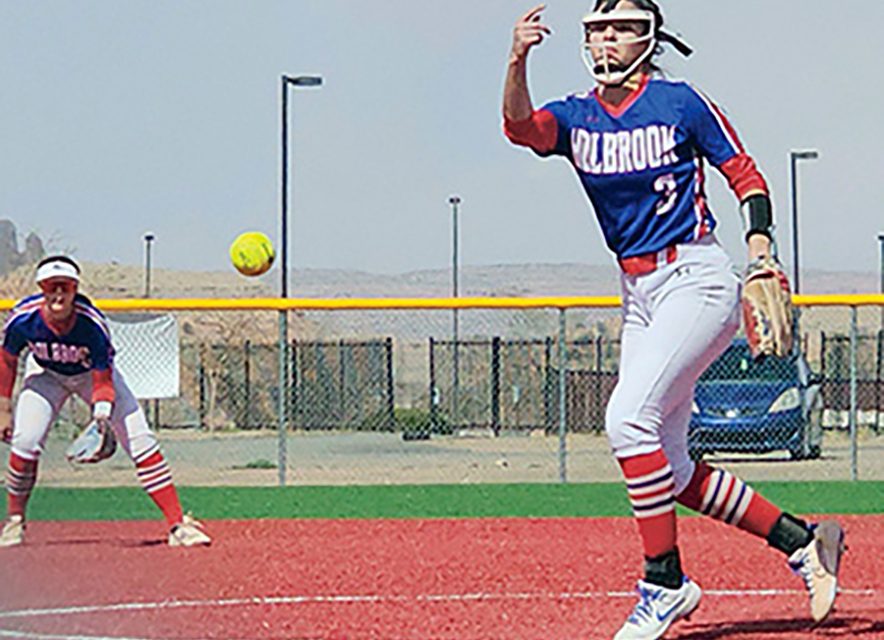 KAYENTA
Last Friday, Holbrook's softball team played in Monument Valley's rare triple header event where the Lady Roadrunners demonstrated its prowess in a 14-3 win.
MV played Window Rock in a twin bill earlier in the day before taking on the Lady Roadrunners.
The game on Friday was Holbrook's fourth game in four days, as it played a series of make-up games.
Despite that though, they came out strong and dominated the field. The first inning started slow as they faced a series of slow balls from the Lady Mustangs. But once they readjusted, the Lady Roadrunners quickly dominated the field with their batting.
Inside the circle, pitcher Natalie Patterson was able to lock down on Monument Valley.
Patterson pitched the entire game giving up three runs on three hits while striking out six batters.
Despite the windy day, she said it didn't bother her throws, saying she's used to it after practicing so much in Holbrook.
"I think my team is doing amazing this season compared to last year," Patterson said. "I think we have a chance to make it to state without a play-in game."
Patterson complimented her team for their success and her catcher, Sarah Slim. She thanked them for helping the team on defense. Even though this was their fourth game of the week, Patterson said they're doing great.
"We're pretty tired, but we know how to be strong when playing through a lot of games," she said.
The Roadrunners finished with 21 hits with Angelique Tyler and Slim hitting one homer each.
Slim is proud of how the team is doing, especially after playing so many games in as many days.
"We know what to perform and when to step it up," Slim said.
This year the team is more focused and they have been working better together then compared to the previous season.
The single game on Friday was fun for her, after overcoming the challenge of adjusting to MV's pitching.
"It feels good," Slim said. "I love seeing all the support and seeing everybody happy for the person who hits a homerun and to know we're all here to support each other and that its not about one person."
Holbrook softball coach Scott Baker is proud of his team's performance through the course of the season. He was pleased with their batting and fielding, something they've improved on since last season.
"The biggest thing is we're just playing together as a team," Baker said. "That's the big thing for us; playing together and don't give up."
The Holbrook coach said it took a while to build this year's squad as it is filled with mostly experienced ball players. He added that there are no superstars on the team, but they all play like one together.
The day before Friday's game with MV, the Roadrunners beat Winslow to an 18-17 finish. Holbrook enjoyed a 10-run lead before Winslow came storming back in the fifth frame.
The Lady Bulldogs briefly took the lead, but Holbrook didn't panic.
Despite the scare, Baker feels like the game showcased the best of the team's abilities when it came to playing as one.
Baker said the goal is to finish in the top 8 in the 3A state rankings that way they can get a first round bye.
In Tuesday's Arizona Interscholastic Association statewide polls Holbrook was ranked No. 9.
"The other goal is to win the 3A East, and we're in the position to do that right now," Baker said. "We got a two game lead so those are our goals right now and once we get there then we go from there."
---