Lady Sand Devils end losing streak, advance into state quarters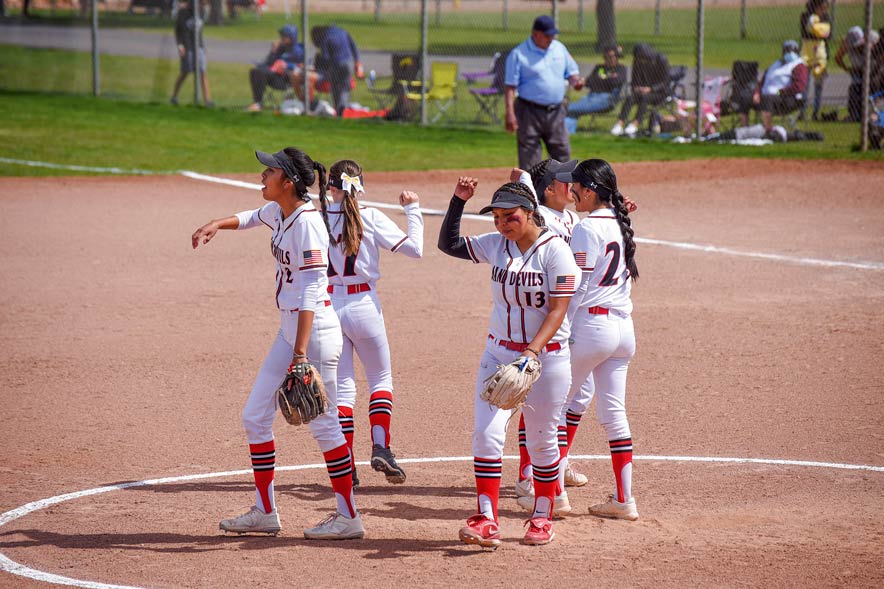 WINDOW ROCK
The Page softball team ended a two-game losing skid on Tuesday afternoon.
The fifth-seeded Lady Sand Devils rebounded in a big way with a 9-0 shutout win over No. 12 ALA-Ironwood in the opening round of the Arizona Interscholastic Association 3A state playoffs.
"We played a good solid tight game as far as pitching and fielding," Page interim coach Sylvester Begay said. "We were hitting our cutoffs and we were communicating."
The Sand Devils (24-4 overall) were coming off a rare losing streak during a tumultuous period in late April as then-head coach Sunni Crank resigned her position, followed by the suspension of five players. The players were suspended for violating the Parent/Family/Guardian Code of Conduct.
Begay said the team chemistry remained intact despite the recent chaos involving the program.
"I think they're happy that they're all back, and I'm happy that they're all back," he said. "We're running on all cylinders as if nothing really happened. That is how I see it in the way we're playing right now."
Begay said ace pitcher Grace Jump played a phenomenal game as she racked up 13 strikeouts. She allowed four hits and walked one batter in seven innings of work.
"I think we got one error and one of their players advance to second," he said. "Other than that, Grace did a pretty good job. She pulled through and she did what she wanted to do."
Offensively, the Sand Devils scattered 10 hits on ALA-Ironwood Lady Warrior pitcher Ella Verdine.
Page catcher Miakoda Whitehorse went 3-for-4 at the plate with two RBIs. Third baseman Shanelle Tallsalt and right fielder Alysa Manson finished with two hits each with the latter ending the final score with a three-run homer in the bottom of the fifth.
Earlier in the contest, the Sand Devils plated four runs in the third thanks to three errors by the Warriors.
"Some of the girls were kind of off tonight, but we came back and they found their sticks," Begay said. "We had some good hits, but we hit it right at them."
The Sand Devils will take on No. 13 Payson at the Papago Softball Complex in Phoenix on Friday at 7 p.m. The Lady Longhorns upset No. 4 Chandler Valley Christian with a 10-5 win on Tuesday.
"We got some minor adjustments to take care of," Begay said while looking into Friday's quarterfinals. "The biggest thing for us is we have to worry about the small ball. We need to get players on base and move them around.
"We got to keep our sticks going and keep that positive momentum going," he added.
The Page interim coach said he's done his homework by studying all of the playoff teams.
"I've been watching a lot of teams on MaxPreps," he said. "I've been keeping an eye on them and they're all competitive. We got a tough uphill battle.
"We're at the same level with all the teams, so we just got to play our game," he added.
Looking ahead, the Sand Devils have the potential to meet No. 1 seed Tucson Sabino in their half of the draw as the two teams could meet up in the semifinals.
"I have a lot of confidence in these girls," Begay said. "They put in a lot of work and I think they can get to the championship game. I have confidence in them and they're ready for it."
In other first round action, the 10th seeded Holbrook Lady Roadrunners rallied with an 11-10 win over No. 7 Northwest Christian. Holbrook plated five runs in the seventh to stun the Phoenix private school.
Holbrook will take on No. 2 seed Empire on Friday in Phoenix.
---