Defense turns tide for Gallup girls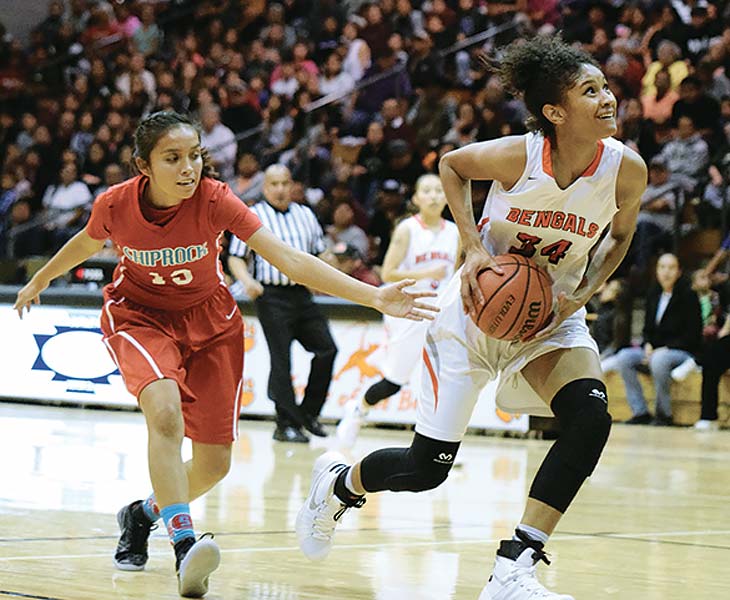 WINDOW ROCK

Led by senior post Ni'Asia McIntosh, the Gallup girls' basketball team posted an 83-77 win over Shiprock on Saturday.
McIntosh finished the game with 32 points, which included 10-of-16 free throws in a battle between two teams that made last year's finals at the New Mexico state basketball tournament.
In a close game, the Lady Chieftains trailed Gallup by two points with six minutes left, but the Bengals cemented the game by coming up with some big plays defensively.
"That's our calling card," Gallup coach Kamau Turner said. "If we turn people over, we'll be fine. We're not going to score a bunch of buckets, but we always have to make sure we prevent other people from scoring buckets."
The Bengals tripped up Shiprock into two turnovers that keyed a 7-2 run with Gallup junior Kalisha Kinsel scoring five of her 19 points for a 68-60 cushion with 4:43 to go.
Turner felt that run was the turning point as his club played more relaxed, especially in handling Shiprock's press.
"Their press bothered us a lot less once we started getting some turnovers," he said.
That eight-point cushion seemed to be the difference even though Shiprock scored 17 points in the last four minutes, which included three treys and an old-fashioned three-point play.
"We got within two, and man, the girls were just nervous," said Shiprock coach Larry Henderson, who added that they were less polished than Gallup.
"This is not the same team I've coached. I didn't see the type of ball players that I have," he said. "It's tough and you know kids are kids. I think it'll take a couple of games before it kicks in, because I know they are ten times better than they showed."
Henderson said he was missing a key player while another – senior guard Lacey Howe – ran in a road race earlier in the day in Phoenix.
"Being in the car all day, she wasn't ready to go," Henderson said of Howe. "We tried to get a team to mesh together, but it was tough tonight and we were real sluggish.
"We made some careless passes," he continued. "We passed the ball into their hands and Gallup telegraphed where we were throwing the ball, so it was easy for them to steal the ball."
---