Navajo Prep boys loaded with talent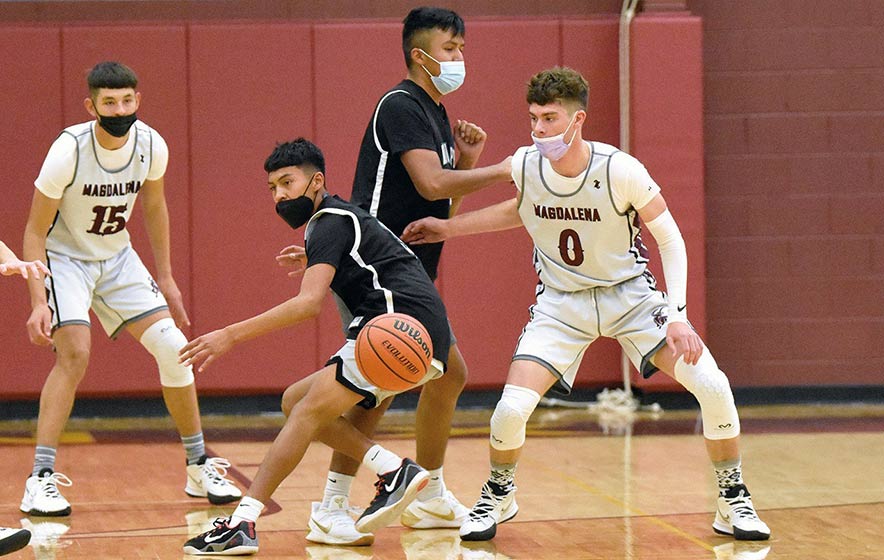 WINDOW ROCK
Coming off a Final Four run last year, the Navajo Prep boys' basketball team is hoping to pick up where they left off.
"That's the furthest we've ever gone on the boys' side," Eagles coach Matt Melvin said. "It's the most success we've had, and we pretty much bring almost everybody back, so we're hoping for big things this year."
The third-year coach said his team was young last year and they got to see some big competition during the state playoffs.
The Eagles went 12-2 overall, including a perfect 10-0 record in District 1-3A play in last year's abbreviated season.
"We're bringing back a lot of guys, so I feel pretty confident about this season," Melvin said, while adding that they have some high expectations this year.
The Eagles will kick off the season during the Shiprock Chieftain Invite on Dec. 2 when the start the eight-team tournament with Newcomb.
In addition to the Chieftain Invite, Navajo Prep is also scheduled to partake in the Gallup Invitational and the Marv Sanders Invitational, which is hosted by Farmington High School.
The Eagles will also play a few 4A teams during the regular season and they include Aztec, Shiprock and Kirtland Central
"It's the most important thing for us," Melvin said of the tough schedule. "We're really looking to try to play bigger, better teams until district starts.
"To me that kind of gets you ready for and to see if your team is battled-tested," he added. "That gives you a chance to figure where you're at and then start to sort things out as you move into district, so we want to try and play the biggest and best teams that will play us."
Melvin said his backcourt players are going to be a handful this year as they return do-it-all senior guard Dontrelle Denetso and sophomore Jude Thomas.
"That's an outstanding athlete," the Navajo Prep coach said of Denetso. "Honestly, he's probably a top five athlete in all of high school basketball in the state of New Mexico. And he just happens to be playing at the 3A level.
"He's a really exciting player that people around the area can come watch," he added. "He can just really light it up; he's a high-raiser and the kid can play above the rim. He's just one of the most athletic kids I've seen around here in a long time."
As for Thomas, Melvin said his pupil worked his tail off over the summer to get better.
"He put on a bunch of weight and got way stronger, and he's been on a mission to improve his game," he said. "He's coming back as a First-Team, All-District player and we're excited to see him play."
As good as they will be with its guard play, the Eagles do have some talented post players coming back, particularly in junior Jay John and sophomore Orion King.
"We're really strong with our inside guys," Melvin said. "We have two old-schooled back to the basket post players. You just don't see that a lot in today's game.
"All the kids, you know, think they're three-point shooters and we really like those two guys," he said. "They work really hard and put in a lot of time, so we have high expectations for them as well."
---