Page girls hold on to win NGS Classic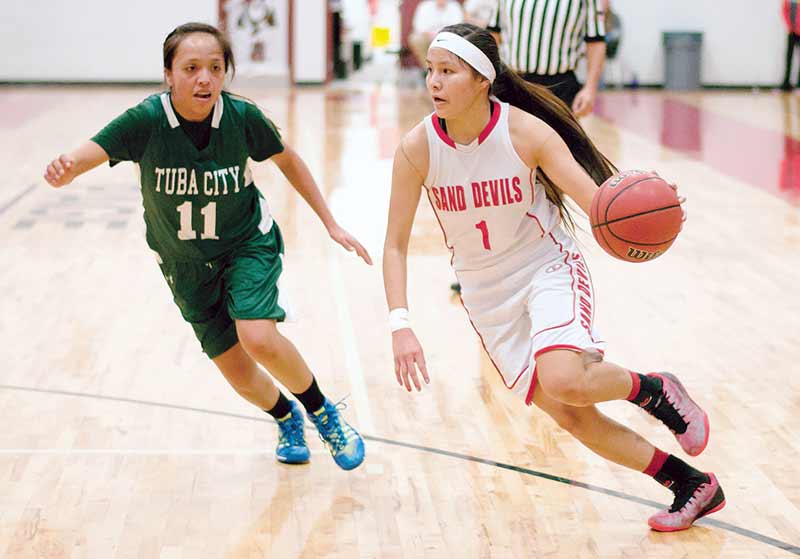 PAGE, Ariz.
For 24 minutes of play, the Page Lady Sand Devils showed what they are capable of.
The Sand Devils controlled the tempo of the game by playing stellar defense against the Tuba City Lady Warriors in the championship game of the Navajo Generating Station Classic on Saturday night.
Tuba City seemed to have no answer for Page's man-to-man defense as they trailed 49-30 after three quarters of play. But the game took a wild turn as Page managed to grit out a 51-47 win.
"I was really happy with the way we played in those first three quarters," Page coach Justin Smith said. "I felt like we could play with Tuba but I didn't expect us to come out like that."
Despite playing its fifth game of the season, Smith said his club is already buying into his philosophy.
"Our goal is to make teams get out of what they want to do offensively," he said. "We disrupted them and I told the girls that was the best defense we've played all year in those three quarters."
Smith was particularly impressed the defensive effort turned in by senior post Brooke Lister who guarded Tuba City's go-to player Tate Tsinigine for much of the night.
"I know she scored 28 points but Tate had to work for them for the first three quarters," Smith said. "And then she scored 12 in the fourth quarter."
As for the other players, Page pressured the Warriors into taking bad shots. In addition, they coerced Tuba City into 23 early turnovers.