Kirtland coach 'very pleased' with fourth-place finish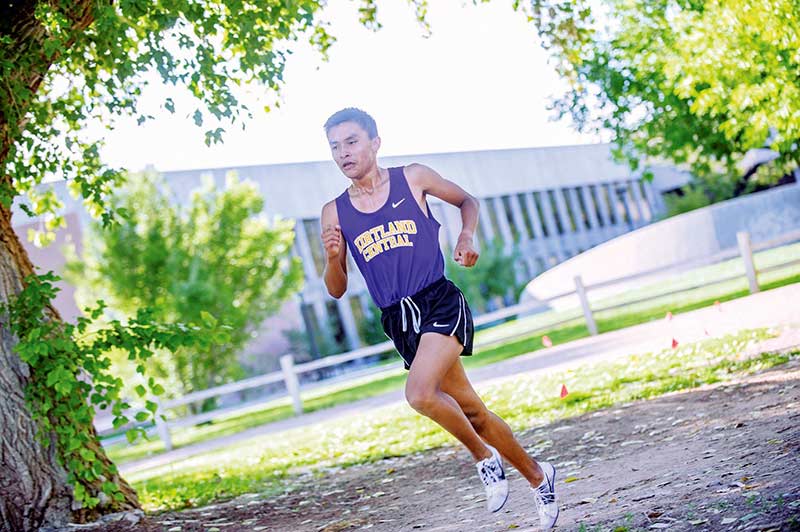 FRUITLAND
The Kirtland Central High School girls and boys cross-country teams are right where they want to be.
While the Broncos always set the bar high, Kirtland Central head coach Lenny Esson was fairly pleased with how his team did at the 2017 University of New Mexico Cross Country Invitational.
The boys team finished tied for third, but fell into fourth place, and the girls finished 12th overall.
"As far as my boys, I was very satisfied with their performance from our first meet," he said. "Overall I was very pleased."
Kirtland Central junior Kashon Harrison finished first overall and first for his team in a time of 15:40.50. This is the second year he's finished in the top position at the race.
Coming in behind Harrison for the team was Tristen George at 17th with at time of 16:34.60, teammate Jacob Hawkins came in third for the team and 20th overall in 16:40.90, fourth for the team and 50th overall was Koby Blackwater in 17:12.3.
Esson said Blackwater, his second runner, didn't finished the way he wanted and that it's something to build on.
"My number two boys finished way back so that was kind if the result of where we finished," he said. "Overall I was very pleased; it just means that we have more room for improvement."
Navajo Preparatory School was the only other local team to finish as a team in the top 20. They placed 16th overall. Navajo Prep's Cameron Becenti led the pack, finished 31st overall in 16:49.80.
---