Navajo Pine boasts motivated seniors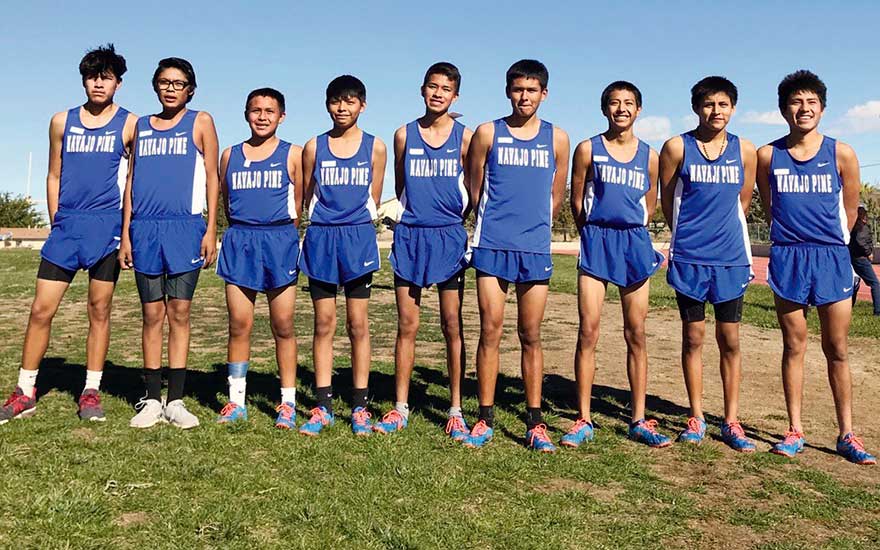 FRUITLAND, N.M.
Since the end of the last cross-country season, the Navajo Pine High boys' team has had some big plans.
The core of the back-to-back 2A state championship team will be seniors this school year, and they want to go out with a bang.
Navajo Pine head coach Kyleigh Thompson said the team hasn't been shy about the plans they have for the upcoming season and it's nothing short of what she expected.
"This year, we're planning to send them off in the right way, and have them beat their own personal goals and to defend their title that they helped bring back to Navajo," she said. "I think that's every team's goal. I know what they want, they talked about it since they were freshmen."
As freshmen, the team took home the third-place green trophy and have had a love-hate relationship with it ever since. While they don't like looking at it or being reminded of it, it also serves as motivation for them to keep working hard so they don't end up with another.
Thompson said the team has dedicated themselves in the off-season and has worked over the summer.
The team will be led by seniors Michael Marshall, Gavin Curley and Dominique Clichee. Underclassmen Marallus Chee and Micah Tsosie will contribute in the other top five positions.
Thompson said the all runners have made big plans to improve their times, but none are more determined than the fourth and fifth runners.
"Our other two spots, the two in the top five runners, they've been running during the summer with me," she said. "They want to send our seniors off well, but they also want to prove themselves."
All five runners finished in the top 15 last season to earn their second straight state title, and now they're going after a third.
Thompson said the team is taking somewhat of a slow approach this season in an attempt to make sure they peak at the right time.
She said strategy is important, especially if they're looking to defend their title.
"Early on, I expect them to still be in training mode," she said. "Our first meet is in Tohatchi. That race, I want it to be used as training more than a race. It's just getting the boys back into their comfortable racing mode with each other."
---