Bragging rights: Devin Kinlicheenie captures family's first Doc Wright title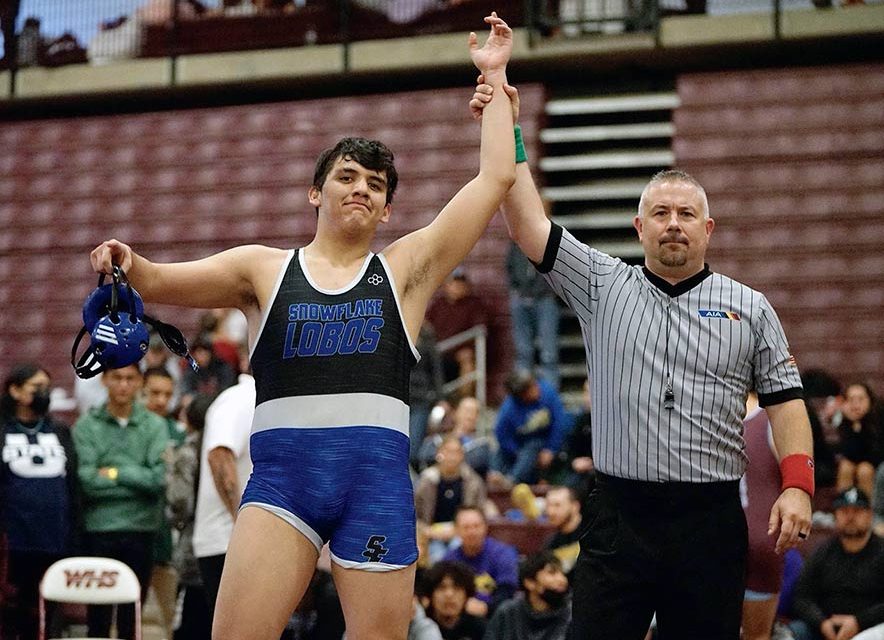 WINSLOW
With family bragging rights on the line, Snowflake wrestler Devin Kinlicheenie was the first in his family to claim a title at the Doc Wright Invitational.
At the 58th annual event, Kinlicheenie won the 215-pound weight class that featured 37 wrestlers from all four divisions in Arizona as well as some out-of-state teams.
"This means a lot because my brother is a two-time state champ and my uncle is a two-time state champ," Kinlicheenie said, "but they've never won this tournament, so this means a lot."
Next month, the Snowflake sophomore will be seeking his first state crown at the Division III level. Last season, he placed sixth overall in his weight class.
"I didn't wrestle like I should have," he said of state last year. "I lost some tough matches, but I shouldn't have lost them."
Snowflake assistant coach Bryan Strain said he's known Kinlicheenie for a couple of years and in that time he's seen him grown by leaps and bounds.
"He has a very strong drive to win," Strain said of his pupil. "He spent a lot of time in the wrestling room; he doesn't take breaks for the summer or spring. He's always thinking about wrestling and he's improving."
Strain said Kinlicheenie has a great work ethic, and that's showing on the mat as he improved to 31-0 overall this season.
"He likes learning and perfecting his craft," he said. "That's one of the attributes you have to have in order to be a winner. You have to improve your craft and make yourself better. He spends a lot of time doing it and he watches film.
"I mean, he's an all-around student sport athlete," he added.
At the 53-team Doc Wright Invite, Kinlicheenie was seeded third for the tournament and en route to the championship he beat New Mexico Class 4A state champ Jaylen Ignacio of Aztec in the quarterfinals.
"I beat a couple of pretty good kids," Kinlicheenie said while noting that he pinned all of his opponents except for Ignacio.
In fact, the Aztec wrestler went the distance with Kinlicheenie as the latter won that match by a 3-1 count.
"He made me earn it," Kinlicheenie said.
In the title match, Kinlicheenie pinned him Nevada's Jacob Chapman of Palo Verde High School. The Snowflake wrestler got the fall early in the third period.
Of his 31 wins, he's pinned 30 of his opponents this season.
"I want to get the pin record for the rest of my high school career," Kinlicheenie said. "I want that record for all high schools, and I want to be a three-time state champ as well.
"I'm trying to set the bar high for myself so that I have something to work towards," he added.
The Snowflake coach said there's a strong possibility that Kinlicheenie can win three state titles before he heads off to college.
"If we can keep him focused, and if we can keep him healthy there is no reason why he can't," he said.
Of the improvements he's made since last season, Strain said Kinlicheenie has gotten better with his top game.
"He spent a lot of time getting better at that," he said. "He's also improved with his takedown game."
Because of that, Strain said, Kinlicheenie is more comfortable at getting into scrambles with his opponents.
"He's a lot more solid with his footwork and top game, so he goes out there and applies pressure," he said. "In the finals today, he was able to wear the guy down and get him on his back."
As for his wrestling background, Kinlicheenie comes from a long line of grapplers as his father, Celestine, and uncle, Kovacsics Kinlicheenie, wrestled in high school with the latter winning two state crowns at Joseph City High School.
Devin's older brother, Terrell, won a couple of state crowns before earning an athletic scholarship to compete on the men's wrestling team at Arizona Christian University.
"They're a tight-knit family and they devote a lot of their time with each other," Strain said of the Kinlicheenie family that includes siblings Latrell and Dominique.
"I mean, their dad travels up and down the state and into other states for wrestling," he added. "He spends hours and hours and hours with them and he's willing to do anything for his kids."
---