District showdown: No. 6 Crownpoint to square off with top-ranked Navajo Prep on Tuesday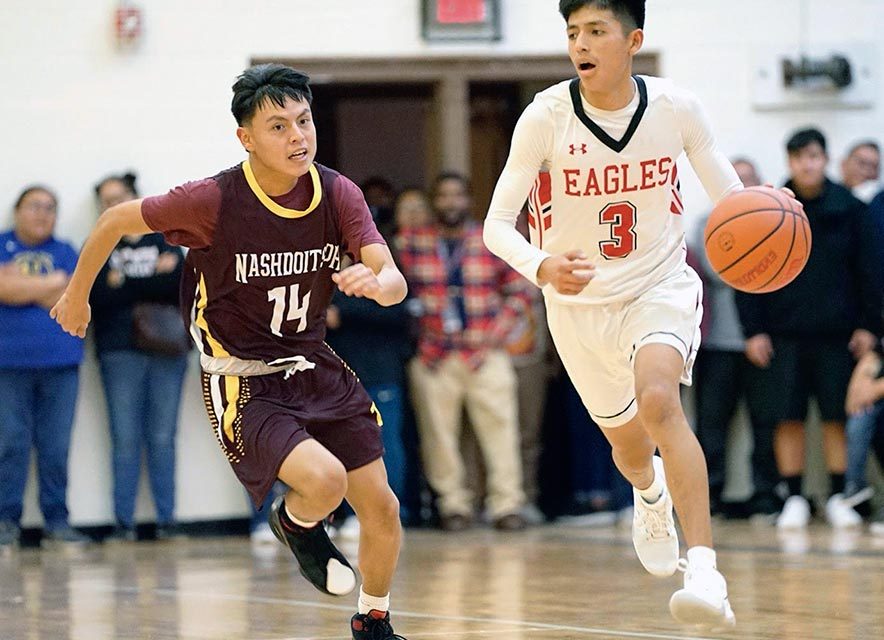 CROWNPOINT
The seven-team District 1-3A boys is starting to shape up into a two-team race between top-ranked Navajo Prep and No. 6 Crownpoint.
The two teams have opened the district with 2-0 records with Navajo Prep (12-2 overall) earning wins over Tohatchi (67-45) and Thoreau (89-43) as the paper went to print.
Crownpoint, meanwhile, has posted victories over Wingate (53-43) and Tohatchi (59-42).
The two juggernauts will play each other on Tuesday with 'Prep hosting Crownpoint.
"It's always good playing against Navajo Prep," said Crownpoint coach Thale Goodluck, whose team sports a 11-4 record. "You know, coach Matt (Melvin) is a good coach and I think it's gonna come down to which coach strategizes the most in finding weaknesses and chopping at it."
With the NFHS network broadcasting almost all games, Goodluck said it's easy to scout teams.
"It's all about studying teams and the NFHS makes it easier," he said. "We get to watch and observe."
And although the two teams are expected to challenge for the regular season crown, Goodluck said he's not counting out any of the other district members for that elusive title.
Newcomb is sitting third at 1-0 in district play followed by Wingate (1-1), Zuni (0-1), Tohatchi (0-2) and Thoreau (0-2).
"I think it's too early to count out anybody in our district," Goodluck said. "Basically, it comes down to who wants it the most, and who shows up to play."
Tohatchi coach Jim Smith agreed as his squad played the two toughest teams in the district after coming off a three-week break.
"We're a little bit behind, but we're not that far behind," Smith said of his team's 0-2 start. "We're gonna play catch up, but we're more than capable of catching up to 'Prep and Crownpoint.
"We're gonna work as hard as we can and let those results speak for themselves," he added.
Smith said every single team has their strengths, but he also notes that any team can have an off night.
"On any given night, any team can win," he said. "We seem to get everybody's best and that is how I expect it to be."
Of the two district games they played, Smith said they played on an even terms with Crownpoint and 'Prep, but in each game they had one bad quarter.
"We fell apart in the second quarter with 'Prep and tonight it was the third quarter," Smith said of last Thursday's loss to the Eagles. "We're coming off break not playing for three straight weeks and that kind of contributed to the games we lost.
"Eventually, we're going to get our legs back," he added.
In last Thursday's game, the Cougars were paced by sophomore Josh Dawes as he finished with a dozen points while Elijah Johnson added eight.
For Crownpoint, the Eagles had three players in double figures with Taye Harvey scoring 18 while Tyrell Archie chipped in 16 and Tylon Tsosie added 14.
At the half, the Eagles were clinging to a 25-23 lead, but after both teams returned to floor Crownpoint outscored the Cougars 19 to 6 for a 44-29 advantage heading into the fourth.
"This was a good win for us and tonight we were looking to build that chemistry," Goodluck said. "We had some nights to where we were off, but tonight everything seemed to go right for us."
In particular, the Crownpoint coach said they made a majority of their layups.
"The passes were there and my wing players were making their layups," he said while adding that Tsosie did a good job of handling the point guard position.
"He saw some openings and he kept attacking," Goodluck said.
Tsosie said it was a matter of keeping their composure, especially since the Cougars kept the game close in the opening half.
"We just had to trust each other," he said. "I feel like we're playing alright, but we can be better."
---