Win like a champion'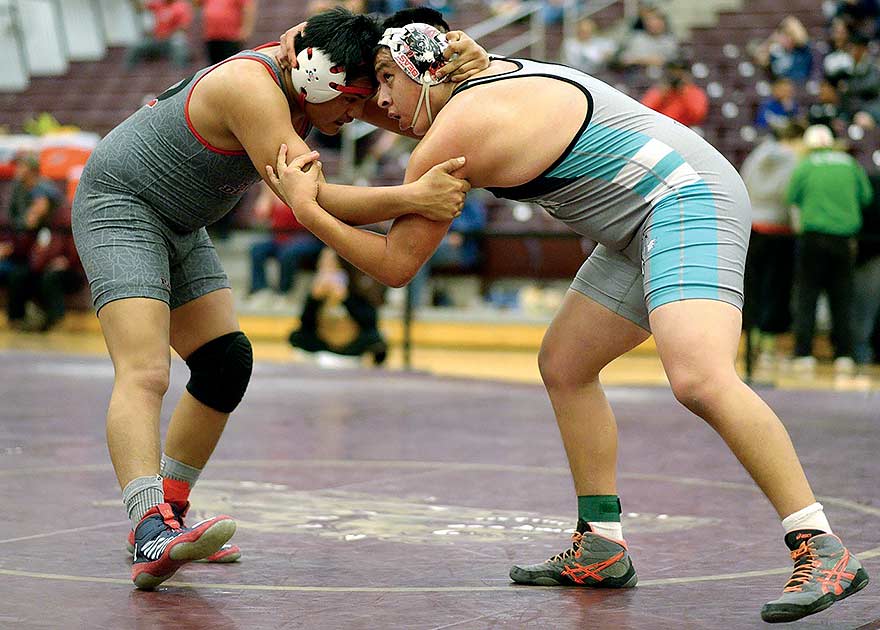 Pinon's Tsosie takes aim at state wresting title
WINSLOW, Ariz.
Sensing fatigue from his opponent, Pinon wrestler Calvert Tsosie Jr. didn't let up in his championship bout last Friday afternoon at Winslow High School.
Tsosie increased a six-point advantage into a 15-4 major decision in the final period of the 220-pound weight class at the Division IV, Section IV wrestling tournament over Page's Ted Parkett.
"I wrestled him once before and I think I won that match by two," Tsosie said of Parkett. "I only took him down three times the last time we wrestled."
In their rematch, he came up with multiple takedowns as he won his first sectional crown, pushing his overall record to 24-3.
With that Tsosie earned the No. 4 seed in this week's upcoming state wrestling tournament, which starts today at Findlay Toyota Center in Prescott, Valley Arizona.
Tsosie will open the state-wrestling meet against Luiz Romero as the Miami sophomore has compiled a 30-17 record.
Last season, Tsosie put Pinon on the map with a second-place finish at the state meet. With it being his senior year, he would like to get back into the finals and take home the state trophy.
"I have to keep taking down guys," he said. "I have to put points on the scoreboard and win like a champion."
Tsosie said last year's accomplishment was bittersweet as he raised a few eyebrows with his championship run.
"It was a great feeling making the finals but it was also painful," he said. "I am thankful that I got second but it was painful losing that match."
---