Lady Scorps deliver 1st district loss to PV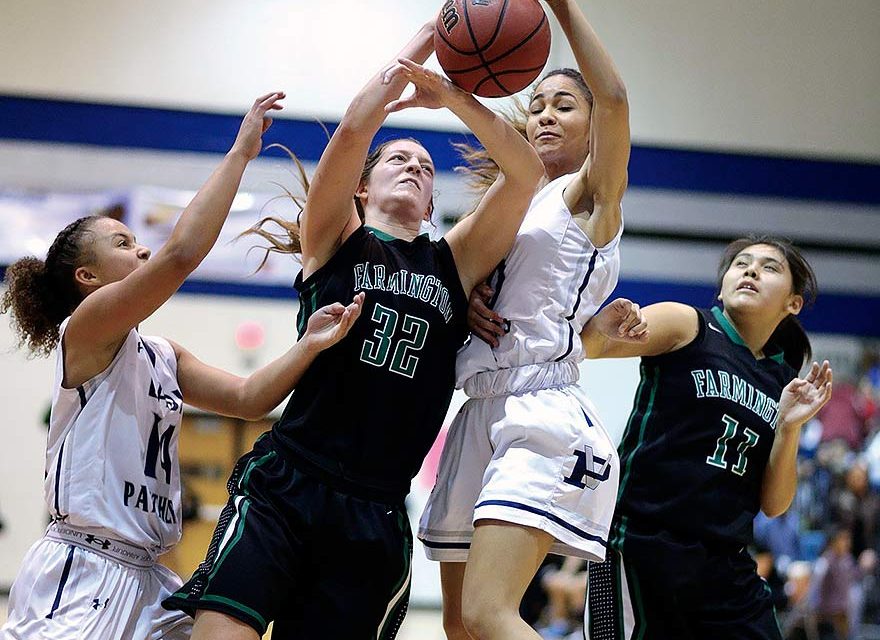 FARMINGTON
The Farmington girls' basketball team has been looking for that big win.
They found it on Monday night when they defeated District 2-5A rival Piedra Vista, 62-61.
The win tied the Lady Scorps at 3-1 with the Lady Panthers and handed Piedra Vista its first district loss.
Farmington head coach Larenson Henderson said it was the win that showed his team their potential.
"That was big for us tonight," he said. "It is big for us because I kept telling these girls we belong in there, we belong in that final game, we just got to utilize our tools. We can't neglect them right now."
Their tools included the use of big players Jordan Vasquez and Chloe Finch with the help of guard Kiiyani Anitielu.
Farmington started the game quick on their feet, taking away Piedra Vista's thunder early on.
They took a 6-0 lead before the Lady Panthers were able to get into the game to tie it, 6-6.
The teams battled back and forth before Piedra Vista took the 13-10 lead after the first quarter.
In the second quarter, Farmington went on an 8-0 run to take a 22-19 lead and extending it to 29-27 going into the half.
Piedra Vista head coach Joe Reed said Farmington put them in a position to make adjustments but they simply showed up with an agenda and executed early on.
"We got out of position," he said. "We weren't getting to our spots on the press breaker. Farmington did a good job of catching a wing and attacking.
"We talked about rotating to the sideline, but we weren't rotating fast enough," he said. "Basically, they came out and punched us in the mouth. They were ready to play and we weren't."
---