Blooms and backhoes: For Diné woman, it's all in a day's work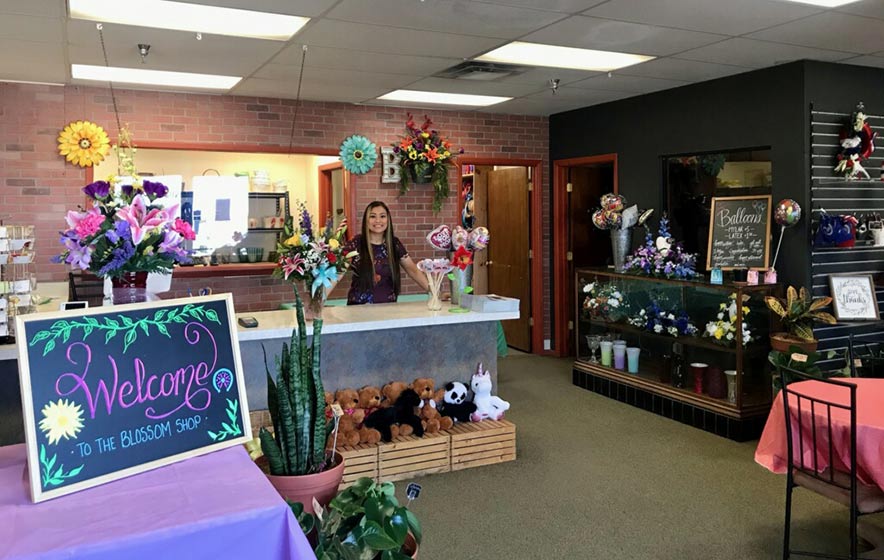 By Stacy Thacker
Special to the Times
SAULT STE. MARIE, Mich.
Counting steel for construction sites to counting vases for a flower shop is a daily transition for Brianne Arviso.
Arviso, Diné, is the owner of the Blossom Shop in Gallup as well as a project manager for the family business, Arviso Construction. Going back and forth between two very different businesses requires lists, separate notebooks, excellent time management and organization. "I'm going through reviewing doors and windows and all this stuff that has to do with construction and then I have to flip the switch and I'm thinking about flowers," she said with a laugh.
Arviso took over the Blossom Shop in early November and made it a Navajo woman-owned business, a fact of which she is proud. "We're all shooting to be self-sufficient," she said. "We want to be able to create our own economy, create business and just be efficient." The pandemic didn't slow business down. The Blossom Shop is well known with loyal customers. Arviso and her staff have been busy since Day One and she's thankful for all the support they've received.
"All of us came into this with no floral background experience so we're learning as we go," Arviso said. They quickly learned the business wasn't just about floral arrangements but customer service, inventory, answering phones, taking orders and maintaining the shop. It's a nonstop cycle that she's proud to be a part of.
But she couldn't have done it without the help of the previous owners, Bill Martinez and his wife. They were nice enough to show Arviso and her staff how to run the shop. "They showed us everything," she said. "Once they felt we didn't need our training wheels anymore, they let us go. A lot of mentorship they provided us, helped us get to where we are."
The biggest success for Arviso is being able to serve the community in times of sorrow and happiness.
"Flowers are very minimal but also a big comfort" when it comes to funerals and memorials, she said. She hopes that by offering affordable services and beautiful arrangements, she can provide a small amount of relief to grieving families.
And in times of happiness and celebration, Arviso hopes The Blossom Shop can bring joy to those buying flowers for graduations, proms, birthdays and other events that were canceled last year but are slowly coming back.
The Blossom Shop doesn't have a website but uses social media to show the different arrangements they offer and to connect with customers. It's also where sales and special drawings are advertised. As a Navajo-owned business, the shop partnered with Navajo jewelers and artists to provide customers with a one-stop shop.
As if juggling two jobs weren't enough, Arviso is working toward her doctorate in construction management. She encourages everyone to keep taking steps toward their goals, even if they're baby steps. "At the end of the day it'll all pay off," she said.
---