Delegate ordered to serve 3 years jail time, pay restitution of $33,400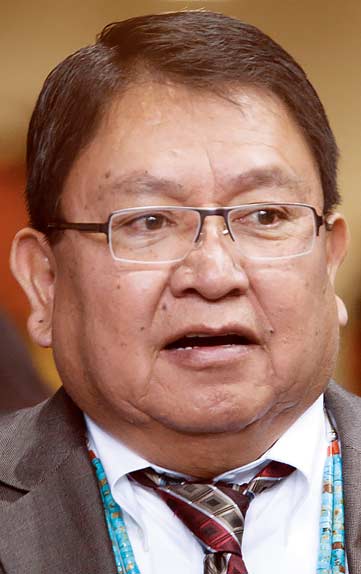 WINDOW ROCK
After more than two hours of discussion, former Navajo Nation Council delegate Mel R. Begay was given a three-year jail sentence after being found guilty of committing fraud and submitting false vouchers to the tribe.
Window Rock District Court Judge Carol Perry gave him the maximum sentence of 365 days on the fraud charge and on two of the nine false voucher charges. All three were to run consecutively.
She also gave him a similar sentence on the seven other false voucher charges but these were to run concurrently with the other sentences.
The three-year sentence was to take effect immediately, Perry said, which caused Begay's attorney, Jeffrey Rasmussen, to ask that she allow his client some time before he was required to begin serving his sentence.
He pointed out that Begay, who represented Coyote Canyon, Mexican Springs, Naschitti, Tohatchi and Bahastl'a'a' chapters on the council, does not have a criminal record and the crime he was convicted of was not a violent one. He also pointed out that he was in the process of appealing Begay's conviction and was "99 percent" sure Begay's guilty verdict would be overturned by the Navajo Supreme Court.
He argued that putting him in jail now was just an attempt to make sure he received some jail time before the verdict was overturned.
Perry listened to him and when he was done, she adjourned the hearing and Begay, obviously unhappy, was escorted by court personnel downstairs to the Window Rock Jail.
Rasmussen had argued against any jail time for his client earlier in the day, saying this wouldn't restore the tribal government and the Navajo people back to the way they were before all this occurred.
He also argued that the jury found Begay guilty of one count of fraud and therefore a three-year sentence was a violation of the Indian Civil Rights Act.
But that wasn't the entirety of Begay's punishment.
---