'Get off our land!'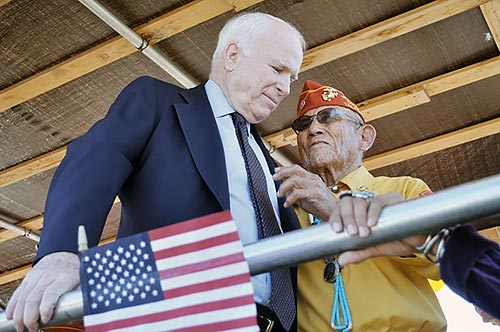 Talks with state, federal leaders draw protest
WINDOW ROCK
While Sen. John McCain (R-Ariz.) and Arizona Gov. Doug Ducey finished their talk with leaders from the Navajo Nation Council last Friday and rode away in their SUVs, millennial Navajos ran after them shouting, "Get off our land!"
But, before offering their message to the leaders, mostly directed at McCain, the 20- and 30-something-year-olds were barricaded inside the lobby of the Navajo Nation Museum by Arizona Department of Public Safety and Navajo Nation Police.
The police officers used force – essentially blocking the main entrance of the museum in an effort to give time for the leaders to blaze off in their caravans. That didn't stop the crowd of young Navajos, dressed in cultural attire, from running after the politicos from the museum to the access point of the Window Rock Airport.
Blocked off by both police forces, the protesters continued their rant of "Water is Life" and "Tó éí ííná át'é." They also held signs that read "McCain = Indian Killer" and "McCain is not welcomed here" at the junction of the airport road and U.S. Highway 264. Some of the protesters attempted to charge through the police.
While vocal citizens tried to chase the state and federal leaders off the Navajo Nation, tribal bureaucrats from the legislative and executive branches were also politicking over which branch leaders would have time with McCain and Ducey to share the Navajo Nation's stance on certain issues, including a new proposal to settle Navajo claims to the Little Colorado River.
---