2017 Sports in Review: Quentin's picks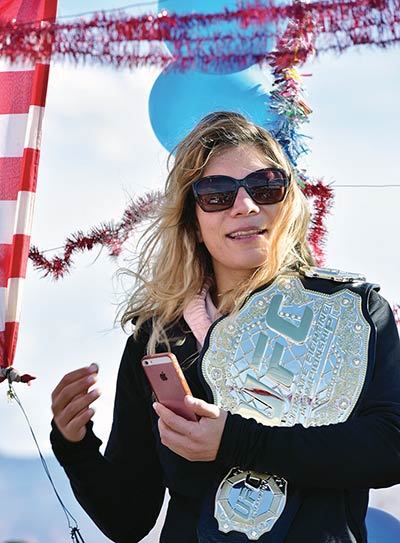 A year of loss, but achievement by student-athletes
WINDOW ROCK
I'm just about to finish my sixth year here at the Navajo Times and I would not trade it for anything else.
I've treasured the times I've had covering all the sports figures from professional team roper Erich Rogers to some of the top prep athletes.
As we turn the page into 2018 it gave me a chance to reflect on the year we had.
Personally, it was not the best year for me, having lost my beloved mother in late October. Early in my career she used to attend sports events with me so I always considered her as my sidekick.
Needless to say it's been a rough year but since her passing I have used sporting events as a coping mechanism. It's my outlet to deal with her loss and in recent weeks I have come across some of the places we visited.
Visiting those places brought back some pleasant memories I have of her and, as I visited our archives here at the Navajo Times, it brought back some of the great things our area athletes have achieved.
I hoped this year's Top 10 moments in sports will do justice to them as they put in the time and effort to make our list.
1. Rogers, Petska wins world
Round Rock, Arizona, cowboy Erich Rogers and partner Cory Petska emerged as world champions at the conclusion of the 2017 Wrangler National Finals Rodeo at the Thomas & Mack Center in Las Vegas, Nevada, on Dec. 16.
Both ropers collected six checks including a tie for first-place in the fifth round when they recorded a 3.9 run.
They finished the aggregate race in second place by roping nine of 10 draws in 53.90 seconds and collected $131,705 as they finished atop in the year-end standings with $265,416.
Rogers said it was a great feeling to win the world with Petska, his roping partner for the last five years.
"I've been here several times and to finally get an opportunity to capitalize on it and to have Cory behind me, especially to have him heeling for me, it's a great feeling," he said. "It makes me feel great to win a championship with him. He's a veteran, he's here been longer than me and, like he said earlier, all the hours I put into and he's put into it, I'm glad to be part of it with him, to go down in history as champions."
2. Diné MMA fighter crowned champion
Diné MMA fighter Nicco Montaño gritted out a dominant unanimous decision on Dec. 1 in Las Vegas, Nevada, at "The Ultimate Fighter 26" finale and became the Ultimate Fighting Championship's first women's flyweight champion.
Montaño, who grew up in Lukachukai, Arizona, beat veteran Roxanne Modafferi. The judges' scores were 50-25, 49-46 and 49-46 over Modafferi, who sported a 21-14 record going back to 2003.
"She's a vet," Montaño said. "She's been after an opportunity like this her whole career, for 14 years now, so I knew it wasn't going to be an easy fight to begin with, because she was ranked number one. But also she definitely, definitely wanted it as badly as I did."
A celebration parade in her honor took place Dec. 3 in her hometown of Lukachukai.
---