Miyamura rallies together to sweep KC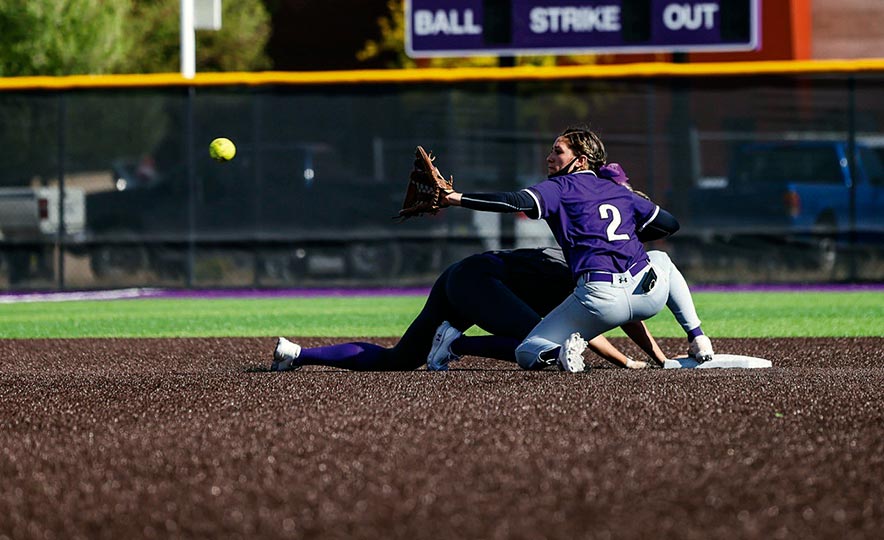 GALLUP
In must-win games, the Miyamura softball team kept its playoff hopes alive by sweeping Kirtland Central last Friday.
Of the two games played, the Patriots had to go an extra two innings to outlast the Broncos 7-6 in the opening game. In the nightcap, Miyamura got its bats going, posting a 15-4 win over KC.
"We struggled in the beginning with the speed of their pitcher," Miyamura coach Mattea Lovato said of KC. "We struggled with our hitting and just being patient at the plate. Everything was coming down the third baseline and everything was popping up but we finally got our groove back."
In the decisive ninth, senior catcher Amber Mecale hit a walk off single that earned the Patriots the one-run win. That single was Miyamura's ninth hit against KC's Anayah Wabbington.
"We were able to rally back in the ninth," the Miyamura coach said. "It really wasn't any single individual player; they all came back hard together."
"That's the thing about this team," she added. "If they rally together, and if they stay playing together, we're a different team. When we're together like that and we have that flow and connectivity that is what can happen. We just had one hit after another."
Lovato said the difference came down to simply hitting the ball and not overpowering it.
"We stopped trying to kill the ball," she said. "We started to put the ball in play. Little hits make big ripples and that's what we started to do finally in that eighth and ninth inning."
The sweep improved Miyamura's record to 12-2 overall and 4-2 in District 1-4A play. Had they lost that first game, Lovato said it would have had serious ramifications in terms of them earning a state bid.
"It would have hit us hard," she said, as the Patriots are sitting second behind district leader Gallup (14-2, 6-0) for the league's automatic bid for state.
Per the New Mexico Activities Association, the six district champions in 4A will automatically qualify for state and the rest of the field will be made up of two at-large teams.
In the latest Maxpreps.com statewide rankings, the Patriots were ranked No. 3 behind Artesia and Gallup.
Earlier this year, Miyamura dropped its only two losses of the season to the Bengals as Gallup run-ruled its city rivals. The scores were 16-1 and 22-6.
"We were coming off two big wins over Aztec and, when we rolled into Gallup High, we didn't have that flow," Lovato said. "That flow is important for our team. If we're all connected and we're all playing together it's a whole different ballgame."
Some of that flow was present in last Friday's doubleheader, even though the Broncos rallied from a 4-0 deficit in the opening game.
KC came up with four timely hits in the top of the seventh as they tied up the contest with an RBI single from junior Nizhoni Johnson.
In the midst of that rally, the Broncos got a big boost from Lakeisha Antonio as the senior catcher drove in two runs with her double in left field.
"The girls didn't give up," KC coach Darryl Henry said. "They just continued to see the pitches and they just started to see the ball towards the fifth inning and the seventh inning. We were able to tie it up and then we went into extra innings.
"We just ran out of gas at the end," he added. "It's a tough loss but I'm happy that we went nine innings with them. We just need to warm up faster and get our bats going."
In the nightcap, KC led 6-2 after two innings but they surrendered that early advantage with Miyamura plating six runs in the fourth and five in the next frame.
"We brought in our second pitcher and we were getting a lot of pop flies at the start of it," the KC coach said of junior Marissa Henry. "She was really doing well but then (Miyamura) started to time her pitches towards the end."
With the two losses, KC drops to 7-8 overall and 2-4 in league play.
The Broncos would have played perennial 5A powerhouse Piedra Vista on Wednesday. Scores for that contest were not available at press time.
On Friday they will host Aztec in a doubleheader. On June 18, the Broncos will finish out the regular season with Bloomfield.
As for postseason aspirations, Henry said they have an outside shot of making state as an eighth seed.
"The teams ahead of us are starting to lose," he said. "We just have to see what happens."
Miyamura, meanwhile, has to keep winning if they want to make the playoffs as an at-large team. The Patriots will play at Bloomfield on Friday in a doubleheader and they'll be at Shiprock on June 18 to conclude the regular season.
"There's some crazy potential on this team," Lovato said. "I got some good hitters and I got some girls that aren't afraid of the ball. Having them show up is the tricky part because life happens. They're teenagers and there's drama and there's other stuff going on, so sometimes it's hard to reel them back in."
---