Efforts fail to override prez's line-item veto authority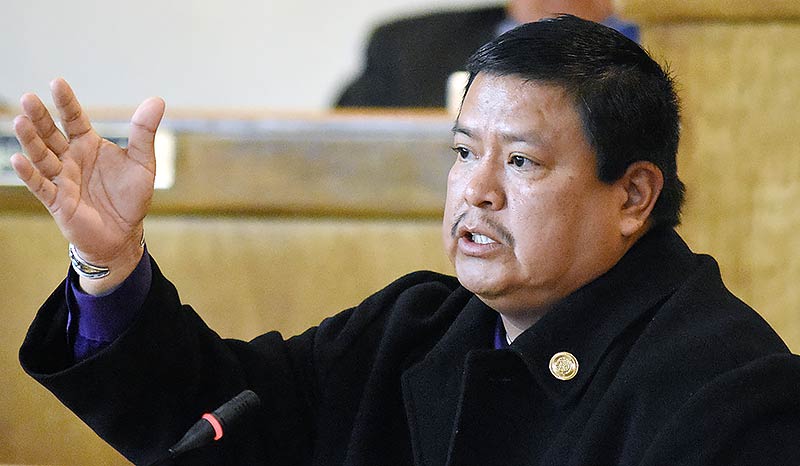 FARMINGTON, N.M.
A resolution seeking to override President Russell Begaye's veto of a measure that clarified his line-item veto authority failed during a special Navajo Nation Council session Dec. 30.
The resolution, CO-46-15, needed super-majority approval, or at least 16 votes to pass. It failed when only 10 delegates voted in favor. Twelve voted against the resolution, which passed with a 10-8 vote in a Dec. 17 meeting of the Naabik'íyáti' Committee. Two delegates abstained from voting.
"This issue will come back," Council Speaker LoRenzo Bates (Nenahnezad/Newcomb/San Juan/Tiis Tsoh Sikaad/Tse'Daa'Kaan/Upper Fruitland) said during an interview after the Dec. 30 meeting. "Without clarity of the line-item veto authority, this issue will keep coming up."
The debate, which has prompted responses from all three branches of the government, began in September when the Council approved the Nation's comprehensive budget for fiscal year 2016. Begaye then vetoed six conditions of appropriations which, as defined by Navajo Nation Code, are "specific contingencies placed on appropriations by the Navajo Nation Council at the time the appropriation is made, creating legal conditions precedent to the expenditure of funds."
The Council reacted by unanimously approving a resolution seeking to amend certain provisions in Title II of the Navajo Nation Code. The amendments would clarify the president's line-time veto authority, limiting it to "the numeric appropriated dollar amount."
---