Chapter Series
Staying above water
The flood-plain community of Rock Point clings fast to culture
By Cindy Yurth
Tséyi' Bureau
(Editor's note: In an effort to chronicle the beauty and diversity of the Navajo Nation, as well as its issues, the Navajo Times has committed to visiting all 110 chapters in alphabetical order. This is the 70th in the series. Some information for this series is taken from the publication "Chapter Images" by Larry Rodgers)
ROCK POINT, Ariz., Jan. 23, 2014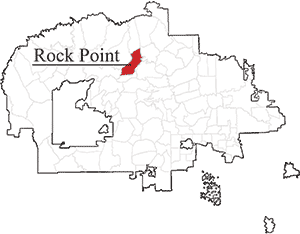 advertisement
A
couple hundred years ago, when people didn't have as much stuff, flood plains were the place to live on the high deserts of the Four Corners.
You planted your crops, and waited for the monsoon to overflow the washes and water them. When it came, you moved your family and your few possessions to higher ground until the water subsided.
These days, the flood plains are definitely not the place to be.
At Rock Point Chapter, where the Chinle and Lukachukai washes converge, the low points were under a foot or more of water during last September's extra-strong monsoon.
Chapter President Janice Jim quit her job in Cortez, Colo., opened the chapter house 24 hours a day so people could get assistance, and declared a state of emergency.
That's when she realized you can't govern from afar.
"When the people need you," she said, "You have to be there."
The flood closed roads and schools and evacuated people from their homes. It also washed away all hope the chapter had of getting a Navajo Housing Authority development.
"We had everything in place," Jim sighed, "and then the flood came. NHA said, 'We can't build here!'"
"I would say it's our biggest obstacle, being on a flood plain," noted Community Services Coordinator Charlene Kirk. "NHA won't build here, businesses don't want to locate here."
advertisements
---
When it's dry, it's almost worse. Horrendous winds sweep across the low red plain, picking up billows of dust that sand-blast buildings and cars and dye white sheep terra cotta.
What it has

Rock Point is a place that's hard to love. Unless you're from here, in which case you're fiercely devoted to it.
"We don't have much," admitted Kirk, "But we're proud of what we have."
Rock Point has a 24-hour Laundromat, a historic trading post, and a charming old Lutheran mission that once housed the only hospital for miles around.
It has some great rodeo cowboys, community farm plots, good traditional healers, medicinal plants, a well-attended veterans organization and fantastic rock formations that all have stories attached, like Talking Rocks where two ladies met on the trail and gossiped so long they turned to stone.
It is the birthplace of current Navajo Nation Vice President Rex Lee Jim, Janice's brother.
A unique school
But perhaps the thing Rock Pointers point to most proudly, and with good reason, is their community school.
In the 1960s, noticing that the majority of his students were struggling with basic subjects, Principal Wayne Holm took an informal survey and found virtually all of them were speaking only Navajo at home. When they came to school, they were expected to pick up English almost on the fly while learning other subjects.
Why can't the students learn first in their own language, he reasoned, gradually transitioning to English as they went along?
Rock Point started bilingual education, at the time a fairly new concept, in 1967. In 1972, a governing board was appointed and it became one of the reservation's first BIA contract schools.
Today, the bilingual curriculum is still used, but for the opposite reason … to help students who may speak only English at home become fluent in Navajo.
"Every student who graduates from our school knows how to read and write Navajo," said Jim, a proud Rock Point grad. The school also hosts an annual song and dance competition that attracts schools from all over the area, and its sports teams do well.
The bilingual program also seems to help students with other subjects. The majority of Rock Point graduates, according to Jim, go on to complete bachelor's degrees, and a substantial number complete master's degrees.
According to Kirk, the scholarship assistance program is probably the most popular service the chapter has to offer, helping hundreds of youth pay for college.
And many college graduates come back and teach at the school.
"I would say the majority of our teachers were once students here," Jim observed.
Rex Lee Jim
The chapter's most famous son, Rex Lee Jim, is a good example of the way the chapter has been able to meld traditional and modern education.
According to his sister Janice, Jim was groomed by his grandfather as a Blessing Way practitioner until the age of 7, when "for some reason our grandfather changed his mind and decided he should go to school," Janice Jim recalled.
Rex Lee was a year behind the other children, but he studied fiercely to keep up and soon surpassed them, according to Janice.
"He was reading all the time," she recalled. "Our grandmother had to say, 'Rex, get your head out of that book and feed the animals!'"
Rex Lee went on to a bachelor's at Princeton and a master's at Oxford. AND he practices the Blessing Way.
Similarly, Christian and traditional faiths meld nicely in Rock Point.
Janice Jim recalled the chapter's Christmas dinner, where the Christian churches were invited to tell the Nativity story, but coyote stories were shared as well. There is also an active Azee Bee Nagha group.
"In a small chapter like ours," Jim said, "I feel like it's the chapter officials' role to try to keep everyone united. That's the only way we can go forward."
What does going forward mean in Rock Point? The newly reorganized Community Land Use Planning Committee is working on that, but Jim has her own ideas too. First, Jim said, she'd like to see everyone get running water and electricity, even the far-flung folks at West Mesa, where she and Rex Lee are from.
The chapter is working on getting a wellness center, so there's something for the kids and elders to do in the evenings.
Eventually, she'd like to see a campground for tourists passing through and maybe even a small motel with a restaurant.
"When people are driving through here at night," she said, "they get on top of that hill and look down and see all these lights. They probably think, 'I'm tired, maybe I'll spend the night in that little town."
"But then they get here, and there's nothing.
"I don't like disappointing people. Before I finish my term, I would love it if we could have something for them. If we all work together, I think we can do it."
How to get The Times: