Chapter Series
Not so sheepish
Sheep Springs is the gateway to everywhere
By Cindy Yurth
Tséyi' Bureau
(Editor's note: In an effort to chronicle the beauty and diversity of the Navajo Nation, as well as its issues, the Navajo Times has committed to visiting all 110 chapters in alphabetical order. This is the 77th in the series. Some information for this series is taken from the publication "Chapter Images" by Larry Rodgers)
SHEEP SPRINGS, N.M., March 13, 2014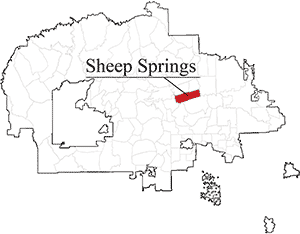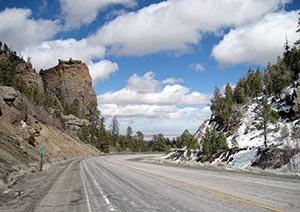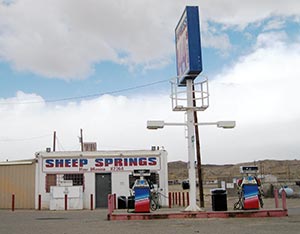 (Times photos - Cindy Yurth)
advertisement
I
n decades past, you could go to Sheep Springs this time of year and find nobody there.
They would have already started their annual trek up the Chuskas, driving their sheep and goats to their spring and summer pastures.
"Everybody had a house up high in the mountains," recalled Clara Garc'a, Sheep Springs' postmistress. "It was like a big old family reunion. Your grandmother would say, 'Go out there and butcher a couple of those sheep so we can feed all these people.'"
These days, says Sheep Springs Chapter Vice President Louise Charley, few families make the trek, and if they do, it's mostly out of nostalgia. She blames technology.
"The younger generation doesn't want to go anywhere they don't have TV, Internet and cell phone reception," she declared.
It's also because of the drought, added Chapter President Ernest Smith. Here were once some of the most lucrative ranches on the reservation, but the little ponds have dried up and you have to drive your flocks higher up on the mountain every year to find good grass.
The chapter's ranchers' association is trying to revive the industry with an irrigation project and reservoir in the works, but most people have already given up and taken jobs in Gallup, Shiprock or Window Rock, all of which are at least 40 miles away.
"We're right in the middle," Garc'a said. She herself lived in Phoenix for years, but got homesick for the quiet and the spectacular sunsets over the Chuskas. She's underemployed; she has training both as a pharmacy technician and a machinist's helper, but she doesn't mind.
"I don't have to put miles on my car every day, and buy all that gas," she said. "And this is a fun job. You see everybody."
Like Charley, Smith and Garc'a, most of the people here are at least middle-aged. You hardly see a child. The young families have fled to the city, leaving the chapter with a large population of elderly to care for.
They're doing a good job. The senior citizens center is a hot spot in town, with elders busily quilting and working on crafts, which they sell to buy more materials.
If the seniors seem exceptionally talented, it's because Sheep Springs has a long history of crafting goods to sell. Back when the trading post was operating, it was famous for its rugs: Two Grey Hills-style, but done in the natural greys, browns, blacks and whites of undyed wool. You can see some fine examples at the chapter house.
Smell the coffee
Garc'a remembers those days, when the convenience store that now houses the post office was the Sheep Springs Trading Post.
"I can still smell the wood, the leather, the coffee on the stove," she said. "If we had a handful of pennies, we thought we were rich. We could buy a whole bunch of candy.