News
Water underneath, kindness on top
Is Beclabito the Navajo Nation's nicest chapter? Just ask the seniors
By Cindy Yurth
Tséyi' Bureau
BECLABITO, N.M., October 25, 2012
(Editor's note: In an effort to chronicle the beauty and diversity of the Navajo Nation, as well as its issues, the Navajo Times has committed to visiting all 110 chapters. This is the sixth in the series.)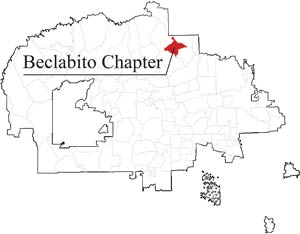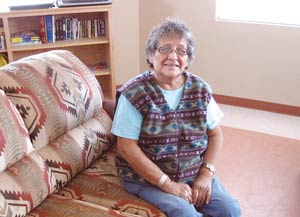 (Times photo — Cindy Yurth)
advertisement
B
eclabito Chapter has an underground spring, excellent views of Shiprock and the Carrizos, and the famous Beclabito Dome.
But ask the local elders what's special about their chapter, and they don't mention geography.
"They treat you right around here," said Robert Lewis, who was hanging out at the year-old senior citizens center. "You come in and they give you a cup of coffee."
"They're always checking on us," said his older sister, Alberta Yabeny, 66. "One time when the roads were muddy, one of the chapter officials left a bag of groceries for me."
The chapter does stuff like organize folks who would like their septic tanks cleaned, so the tank cleaners can make one trip and reduce the rates.
The seniors also boast that they haven't heard of any financial wrongdoing among their chapter officials — which, according to current Navajo Nation audits, would make Beclabito almost unique.
"And we're a certified chapter," added Yabeny. "Write that down!"
The elders have a reason to be proud of their chapter. Everything here looks clean and well organized. But maybe it's easy to be a community with only 317 people, most of whom, if you ask Tully King Sr., are related to each other.
"We're all Tachiiniis here," King stated regally.
King is a great-grandson of the community's founder, a man known as "Hastiin Bitlahnii" (Mr. Underneath) for having located and settled on the underground spring that gave Beclabito (Water Underneath) its name.
"It was the only water for miles around," King said, so Mr. Underneath was the guy to know.
According to King, most of the chapter's current residents are descendants of either Hastiin Bitlahnii or a small number of families who had done the old man some favor or another, so he allowed them to move into the area.
"He had all this land, clear up to the Ute reservation," declared King, looking over a heavily vegetated wash where, he said, the underground spring surfaces for a bit.
advertisements
---
The community sits on an elevated area known as the Beclabito Dome, an igneous intrusion that has been mined for both copper and uranium in nearby areas.
Yabeny's father was a uranium miner, and she blames his career choice for the death of both him and her mother of cancer.
"In a way, it was good, because we lived in different places in Colorado and I got a good education," she said. "But if he had been a railroad worker instead, maybe I would still have a dad."
As it is, Yabeny no longer has either parents or a husband. The man who brought her here passed away some years ago. But she stays because "it feels like home to me."
Both Yabeny and Lewis praise the senior center staff, whom they say go the extra mile to make the elders comfortable.
Neither Senior Center Supervisor Rena Yazzie nor driver Gil Pete are locals — Lewis commutes from Burnham, N.M. and Pete drives 18 miles from Shiprock before he even starts carting seniors around — but they consider themselves part of the community, and so do the seniors.
"I like it here," said Yazzie. "I don't care where I work as long as I can help the elderly."
She's aware the elders like her too, which makes it nice.
"If I take a day off, they all ask, 'Where's Rena?'" she laughed.
Like Yabeny, Yazzie has high praise for the current chapter administration.
"They could say, 'You have your building now, you're on your own,'" she said, "but they don't. They say, 'We have a landscaper coming in, how would you like your area to look?' They consider us part of them. It's really nice."
"We're a community here," Yabeny declared. "The chapter officials, our Council delegate (David Tom), they all do good work. They better keep it up. Put that in there!"
Beclabito at a Glance
Name — Navajo for "Water Underneath" in reference to an underground spring
Population — 317
Area — 86,520 acres
Geology — sits on the Beclabito Dome, an igneous intrusion from the same volcanic event that formed the Carrizo Mountains
Number of businesses — one, Beclabito Express convenience store
Hometown hero — Troy Tom, Army sergeant killed in Afghanistan 2009