News
Laughing at trees
In T'iis Tsoh Sikaad, a sense of humor is imperative
By Cindy Yurth
Tséyi' Bureau
BURNHAM, N.M., November 21, 2012
(Editor's note: In an effort to chronicle the beauty and diversity of the Navajo Nation, as well as its issues, the Navajo Times has committed to visiting all 110 chapters in alphabetical order. This is the tenth in the series.)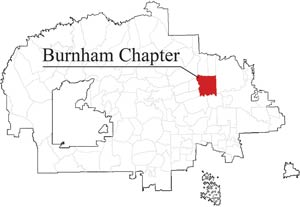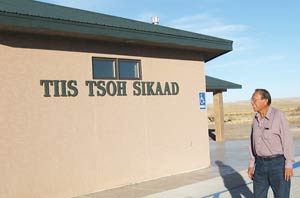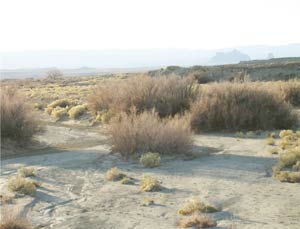 (Times photo — Cindy Yurth)
advertisement
T
his only looks like the middle of nowhere.
Since Navajo Route 5 was paved five years ago, the commute from Burnham, or T'iis Tso Sikaad as it is known in Navajo, to Farmington is only 40 minutes.
Still, said Chapter Manager Veronica Begay, unemployment is a problem in this big square chapter between Newcomb and Crownpoint.
Had it been up to Begay and former chapter president Albert Davis, it would have been "Aoo' Desert Rock."
But between environmental protests and a ruling from the EPA, the coal-fired power plant proposed by the Shirley administration was up in smoke, taking potential local jobs with it.
The recently certified chapter is regrouping, however, withdrawing land along U.S. Highway 491 for what it hopes will be its first-ever Navajo Housing Authority development — with a commercial district hopefully following.
No one is holding their breath; change comes slowly to this barren, rocky flat where life seems to whiz by on 491 and bypass Burnham like the 18-wheelers that have discovered this shortcut to Farmington.
"I've seen some modest changes since I was a boy," mused Davis, 70. "Not much, to tell the truth."
The most striking change was the utter disappearance of the Burnham family's trading post on the shore of the Chaco Wash, which gave the chapter its English name.
"I went away to school in the 1960s," recalled Davis. "When I came home, it was gone."
The poor but industrious T'iis Tsoh Sikaadians had cannibalized every stone for their own projects.
The chapter officially changed its name to the Navajo for "Big Tree Spreading Out" a few years back, but most people still call it Burnham, according to Begay.
"Even a lot of Navajos have trouble pronouncing 'T'iis Tsoh Sikaad,'" said the chapter manager, who commutes from her home in Toadlena, 26 miles away.
This is a very old chapter, part of what the elders call Keyah Sani ("Old Country"), the original 1868 reservation.
The way Davis heard it from his parents, it was settled by tired Diné on their way home from the Long Walk.
Why would they choose this desolate, waterless, treeless plain after spending four grueling years at Fort Sumner?
"I don't know," replied Davis. "Maybe they still had PTSD."
If Davis can be accused of gallows humor, he comes by it honestly. The chapter's Navajo name is a bit of an inside joke, if oral history is to be believed.
"The way I heard it, they were walking around out here and came upon a little, tiny tree," Davis reported. "They probably laughed at it. Instead of calling this place T'iis Yazhi ("Little Tree"), they called it "T'iis Tsoh Sikaad."
advertisements
---
These days, there is a sparse row of tall cottonwoods lining the wash, the only trees for miles. Davis doesn't know which, if any, was the original t'iis.
But T'iis Tsoh Sikaad was settled long before the wandering Diné came along. Every time somebody here applies for an archeological clearance, he holds his breath.
"There are Anasazi ruins all along the wash," confided Begay. "We've mapped most of them, but they keep finding new ones."
It's probable the population of Burnham circa 1000 A.D. was many times more than the 196 who live there now. And like the Anasazi, many Burnham residents still haul their water.
"We're working on a power line and a water extension," Begay said. "People live far apart out here. It's hard to convince the NTUA and Environmental Health to come out here and provide services."
Currently, the chapter itself hauls in water for far-flung residents in a truck, but Begay said a central watering station on the chapter compound is in the works.
While necessities remain problematic, the chapter does have a few luxuries, like the spanking new hogan-style veterans center.
The original plan for the center called for it to include a new chapter meeting hall, but the chapter ran out of money and had to scale back its plans.
"There's only 50 or 60 veterans, but they're very vocal," explained Davis, a veteran himself. "The veterans center won out."
T'iis Tsoh Sikaad is currently saving up for a twin hogan to be the chapter meeting house and offices, replacing the current 1960 building.
A more imposing structure is the 1930s-era stone block BIA school, long abandoned.
"The walls are this thick," said Davis, spreading his hands to a width of about a foot and a half. "It's a good building. I'd like to see it made into a museum."
According to Begay, chapter president-elect Lester Begay (no relation) has "big ideas," and maybe a museum will be among them.
Historically, change has come slowly to the Old Country…but maybe even that's about to change.
T'iis Tsoh Sikaad at a Glance
Population — 196
Land area — about 500 square miles
Industries — Ranching, coal mining (BHP Billiton mine)
Geographical features — Chaco Wash, Bisti Badlands
Problems — lack of water, far-flung population, feral horses, unemployment
Name — the English name, "Burnham," is the name of a family who built a trading post on the Chaco Wash. The Navajo name, "T'iis Tsoh Sikaad" or "Big Tree Spreading Out" may be an ironic reference to the fact that only one small tree was originally encountered in the area.
Assets — the spacious new veterans center can also be used for social and political gatherings and ceremonies