Chapter Series
Manuelito's legacy
Several famous Navajos called Coyote Canyon home
By Cindy Yurth
Tseyi' Bureau
COYOTE CANYON, N.M., February 14, 2013
(Editor's note: In an effort to chronicle the beauty and diversity of the Navajo Nation, as well as its issues, the Navajo Times has committed to visiting all 110 chapters in alphabetical order. This is the 22nd in the series.)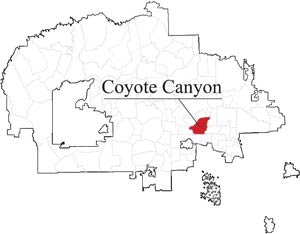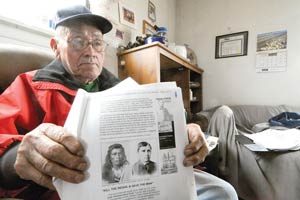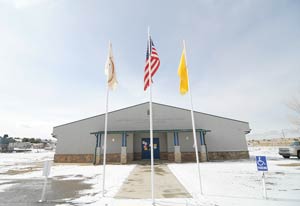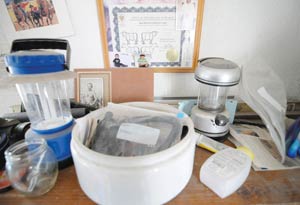 (Times Photo – Donovan Quintero)
advertisement
Y
ou might not have heard of Tom Torlino, but you've probably seen his picture.
Carlisle Indian School in Pennsylvania trotted it out for years as an example of what white man's education could do for the Indian.
In the "before" picture, taken in 1882, the handsome young Diné is a model of the noble savage, wrapped in a blanket, sporting a huge necklace, his long hair draping past his shoulders.
Three years later, his Western-style education nearly complete, the school photographed Torlino (a mistranscription of his Navajo name, Hastiin To'Haali) again. His sleek black hair is short and parted, he is wearing a suit and tie, and his skin tone appears to be several shades lighter than in the first photograph, as though his education actually had turned him into an Anglo (modern photography experts have speculated the photographer used a green filter when taking the original photograph to darken Torlino's skin).
The pictures were often used in conjunction with the school's assimilation-based motto: "Kill the Indian, save the man."
But the fact is, Carlisle never did kill the Indian in Torlino (although they did manage to accidentally kill dozens of western Indians, including two of Chief Manuelito's sons, when they were exposed to eastern viruses to which they had no immunity).
After graduating from Carlisle, Torlino returned to his home in Coyote Canyon, and picked up his career as a rancher and medicine man right where he had left off. Though he never grew his hair long again and had to endure the nickname "Hastiin Bilagáana" for the rest of his long life, he lived as a Navajo.
"He lived here all his life, with the sheep and cattle, and raised some very good racehorses," said one of his three surviving children, Francis Torlino, 83.
Tom Torlino used his newly acquired English skills often, however, and always for the people.
When his uncle, Chief Manuelito, needed a letter written, he called for Torlino and dictated it to him. When Manuelito wanted some help from the U.S. Army Corps of Engineers to design a water system for Coyote Canyon, Torlino was the go-between.
"He could put on a suit when he needed to, but he was just as comfortable in traditional (Navajo) clothing," Francis Torlino said.
Torlino's descendants, who of course are also related to Chief Manuelito, still live within site of the place where Manuelito's and Torlino's hogans once stood, and down the hill from where the great chief is buried.
They don't make a big deal of their regal heritage, said Torlino's great-grandson, Lester Sam, 56, who bears an uncanny resemblance to Carlisle's poster boy.
"But maybe," says Sam, "we should start."
Sam points out a mobile home that has been installed a stone's throw from the little black-graveled family cemetery where Manuelito is buried. He's afraid that if the area continues to develop, the chief's resting place will be disrespected or destroyed.
The chapter recently passed a resolution to preserve the gravesite, so Sam is hopeful. But the situation is a metaphor for all the local history that is being lost or ignored, he said.
"All most people know about Chief Manuelito is the Chief Manuelito Scholarship," Sam declared.
As for Torlino, he has been reduced to a sad emblem of the assimilation era even though he never assimilated.
And as for Coyote Canyon, a place most people think of as a wide spot in the road between Gallup and Crownpoint, it deserves more respect, Sam says.
"Everything is connected from here," he said. "This is where we are, this Bitahnii clan of Chief Manuelito. This is the backbone."
At least a more recent famous son, former Navajo Nation Vice President Marshall Plummer, is immortalized in the beautiful chapter house/meeting hall that bears his name.
And Coyote Canyon is a place to be proud of even apart from the fact that it was Manuelito's chosen home after the Long Walk, according to Art Hood, 67, a lifelong resident and former chapter services coordinator.
advertisements
---
About 60 percent of the chapter's 1,451 residents have running water and electricity, Hood said, and more projects are planned.
The chapter also boasts the Coyote Canyon Rehabilitation Center, an innovative sheltered workshop for developmentally disabled individuals, and a local resident runs a weekly women's sweat lodge.
The chapter's only private business, a trading post originally established in 1900, closed in 2001, never having bounced back from the robbery and murder of a clerk in 1997.
According to Hood, the Rehabilitation Center is looking into opening a convenience store that would employ its residents.
Sam is all for development, but thinks the chapter first needs to preserve its important historic heritage, including perhaps a monument to Manuelito and a fence around his grave.
"It's important to look forward," he conceded, "but it's important to look back too."
Coyote Canyon at a glance
Name - When Manuelito first came back from Fort Sumner and established a homesite at what is now called Manuelito Spring, the area was known as Ch'il Haajin - "Black Weeds." Later, after residents repeatedly had to pull dead (and sometimes live) coyotes out of the steep-banked watering hole in the wash that runs by the chapter house, it became known as Ma'ii teehitlizhi ("Coyote fell in the watering hole"), which was translated more simply as "Coyote Canyon."
Population - 1,451
Famous residents - Chief Manuelito, Carlisle Indian School poster boy Tom Torlino, former Navajo Nation vice president Marshall Plummer. According to resident Lester Sam, country star Waylon Jennings was a frequent visitor to the chapter in the 1970s, and his trademark, a cross between an eagle and a "W," was inspired by an eagle caught in a coyote trap he saw while visiting there.
Assets - historical sites including Manuelito's grave, a women's sweat lodge, a sheltered workshop for developmentally disabled individuals; proximity to Gallup (about 25 miles)
Problems - lack of business, feral horses