Chapter Series
Dancing with drought
Life in Dilkon will be smooth...if it can meet its water needs
By CIndy Yurth
Tséyi' Bureau
DILKON, Ariz., March 14, 2013
(Editor's note: In an effort to chronicle the beauty and diversity of the Navajo Nation, as well as its issues, the Navajo Times has committed to visiting all 110 chapters in alphabetical order. This is the 26th in the series.)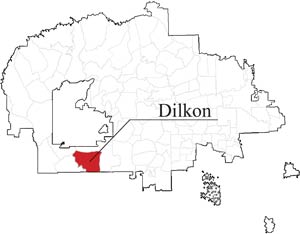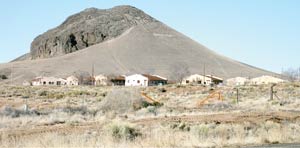 (Times photo — Cindy Yurth)
advertisement
T
he Navajos used to call this place To' Dizli ("Flowing Water"), but now that seems like a sad irony.
Dilkon, perhaps more than any other chapter, has had to face climate change head on.
It's not the driest chapter on the Navajo Nation by any measure. In fact, there is quite a bit of subsurface water, and you don't have to drill that deep.
But precious little is fit for human consumption. The wash behind Cheezhin Dilkaan (the "Smooth Butte" that gives the chapter its modern name) is polluted by upstream dumping. The aquifer under the town is too salty to drink. Most of the windmill-pumped wells that dot the chapter, it was discovered in the late 1990s, have high levels of arsenic and other heavy metals that leach out from the Dilkon Diatremes, volcanic formations that vein the area.
"The windmills are OK for livestock use," explained Chapter Manager Carol Davis, "but we just couldn't convince people not to drink from them, so we had to weld them all shut."
Two years ago, "the community literally ran out of water," Davis said. The National Guard had to truck it in.
Since then, Dilkon has gotten serious about the drought. It has hosted community clean-up days to move the festering trash out of the wash, and cut down the water-sucking non-native tamarisk. And you have to look hard to find a feral horse.
"We've gotten our overgrazing under control," Davis stated.
Other chapters have come to Dilkon asking how it handled its feral horse problem, but it's no big secret, Davis said.
"We had a big roundup of about 100 horses," she explained. "Then we told the people, 'Within the year, we're going to do this again, but we're not going to tell you when.' Since then, everybody keeps their horses in the corral."
A lot of people sold off their livestock when the windmill pumps were shut down as well.
But if Dilkon hopes to grow, and it does, it's going to need to find more water. The chapter is presently looking into a filtration system to take out the arsenic, but it's an expensive and maintenance-heavy proposition.
advertisements
---
If Dilkon can get a handle on its water problem, it has a lot going for it. At the crossroads of Navajo Route 15 and Arizona Highway 87, "everybody from Window Rock has to go through here if they're going to Winslow or Flagstaff," Davis said.
It has a Basha's, two convenience stores, a laundromat, a pizza parlor, a physical therapy practice, a veterinary office and even a furniture store.
As a "secondary hub" of the tribal government, it has sub-offices of the Navajo Housing Authority, Navajo Tribal Utility Authority, Navajo Transit Authority, Social Services and more. The new 7th Judicial District, housed in a gorgeous new courthouse with four hogan-shaped courtrooms, employs 16 people including bailiff Ronovan Begay.
Begay was thrilled when the district moved into its new digs four years ago and he got a job in his hometown.
"I lived in Phoenix three years, and that was long enough," Begay said. "Now I'm back home where it's quiet and there's no traffic. I can walk to work if I want to."
If you can't find a job in Dilkon, Winslow is only a 45-minute commute.
Perhaps because it has more public- and private-sector jobs to offer than most chapters, Dilkon has a relatively young population, with a median age of 23.
The chapter is actively trying to keep its youth around, Davis revealed. A recently completed wellness center is getting a lot of use, and a new multi-purpose building is on the drawing board, complete with a computer lab, mini-library, a music room where kids can learn and play instruments, and even a broadcast center where the chapter is hoping to eventually set up a community radio station.
Programs for seniors and veterans will also be housed in the new building, and the chapter is hoping to get the youth and the elders together with activities like weaving lessons, traditional storytelling and shoe games.
Fifty acres has been withdrawn for an Indian Health Service complex, including an outpatient clinic.
The chapter is petitioning the NHA for more rental units to accommodate people moving in from elsewhere as the area develops.
But according to Davis, the chapter's main asset may be an intangible one. It has one of the highest per-capita education levels on the Navajo Nation.
"I'm not sure why it is, but many of our people have college degrees and even advanced degrees," Davis said. "We have a lot of doctors, attorneys and engineers."
The chapter's land use planning committee, Davis said, is probably one of very few on the Nation that actually boasts people with degrees in urban planning.
With all that brainpower, Dilkon ought to be able to solve its environmental challenges. Maybe someone can even figure out why its name is spelled two different ways on the hand-painted sign on Highway 87 — "Dilcon" on one side and "Dilkon" on the other.
Dilkon at a Glance
Name — Probably from "Cheezhin Dilkaan" ("Smooth Butte," the hill behind the chapter house). An older name for the area is To' Dizli, "Flowing Water," for the wash that runs behind the butte.
History — The community grew up around a large trading post in the 1940s and 50s. It was a nexus of trade between whites, Hopis and Navajos.
Population — 1,411, down about 200 people from the 2000 Census
Land area — 16.6 square miles
Problems — lack of potable water
Assets — a fairly major crossroads, Navajo Route 15 and Arizona 87; one of the highest educational levels on the Navajo Nation