Chapter Series
Corralled by cows
Grazing permits, arch sites keep Newcomb from developing
By Cindy Yurth
Tséyi' Bureau
(Editor's note: In an effort to chronicle the beauty and diversity of the Navajo Nation, as well as its issues, the Navajo Times has committed to visiting all 110 chapters in alphabetical order. This is the 59th in the series. Some information for this series is taken from the publication "Chapter Images" by Larry Rodgers.)
NEWCOMB, N.M., Nov. 7, 2013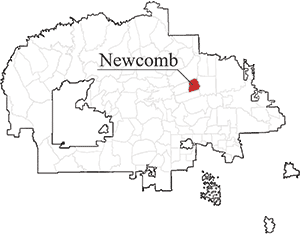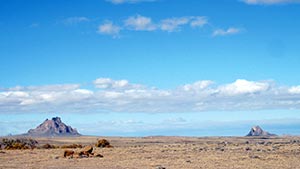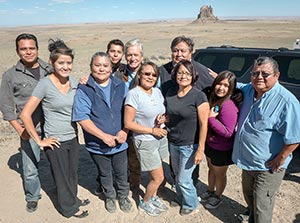 (Cindy Yurth - Navajo Times)
advertisement
N
ewcomb was the first New Mexico chapter to get certified under the Local Governance Act, and the fourth in the Navajo Nation. It has easy access to busy U.S. 491, water lines, electrical power and Internet. By now it should be booming.
But if you come here, you will see only the one business: the gas station and convenience store that has been there for years. What's the problem?
Careful observation reveals that too. The few clumps of grass you see on Newcomb's flat grey plain are grazed down to the roots. This is ranching country, and in this marginal land you'd have better luck asking a rancher for his first-born than an acre from his grazing area.
If it's not the cattle, it's the Anasazi. Those circular piles of rock you see as you bump along the dirt roads of Newcomb are ancient kivas, remnants of what archeologists call the Newcomb Site - a major outlying community of the ancient civilization that colonized Chaco Canyon 50 miles east-northeast of here.
Basically, you can't stick a shovel in the ground around here without starting a major archeological dig. According to Chapter Manager Lawrence John, a pre-schooler on a Head Start hike once accidentally uncovered some poor blighter's skull.
"All the sites we want to develop," lamented John, "the Anasazi are already there."
The Ancient Ones might lend this chapter some tourism potential; both John and Chapter President David Randolph Sr. say Chacophiles flock here during the spring equinox, convinced that the alignment of the ruins with the rising sun on that date is no coincidence. But you can't really develop a tourist attraction based on one day a year, and then there are the grazing permittees to contend with (see above).
Even after Newcomb gave permission for the crew of the new Michael Douglas movie "The Reach" to film at Bennett Peak last month, a crew of Sanostee ranchers showed up to protest. (That brings up another problem: the Bennett Peak area is claimed by Sanostee, Two Grey Hills and Newcomb.)
"The new chapter administration," promised Randoph, "is committed to development. But with all the obstacles, it may take us a while to set aside some land."
Meanwhile, this chapter 22 miles from Farmington (via the recently paved short cut through Burnham) and 58 miles from Gallup already has a lot more amenities than most. There is education: Head Start through high school; a spacious senior citizens center with a flat screen TV and a pool table; and a thriving veterans organization that likes to give back to the community. Currently the group is procuring welcome signs for Newcomb.
There's even a fire station, courtesy of San Juan County, and a regional library, courtesy of the Central Consolidated School District, which offers GED classes in addition to lending books.
Both Christian Churches and the Native American Church are big here.
"We're sort of a center for the surrounding chapters," noted John. "We provide them with education and shopping at the convenience store."
If you want to farm, Newcomb has 103 community farm plots you can reserve, each between one and 40 acres, although the reservoir that was used to irrigate them has all but dried up in the ongoing drought.
Newcomb has historically been the site of some horrendous head-on crashes on 491, but with the recent expansion of the highway to four lanes, the injuries seem to be getting less serious, John noted. "We still have accidents," he said.
If Newcomb is to develop to its full potential, it will be no accident. It will take some careful diplomacy with the living, and some sort of truce with the dead.
Contact Cindy Yurth at cyurth@navajotimes.com.