Chapter Series
More than a mission
St. Michaels is ready to claim its due
By Cindy Yurth
Tséyi' Bureau
(Editor's note: In an effort to chronicle the beauty and diversity of the Navajo Nation, as well as its issues, the Navajo Times has committed to visiting all 110 chapters in alphabetical order. This is the 74th in the series. Some information for this series is taken from the publication "Chapter Images" by Larry Rodgers)
ST. MICHAELS, Ariz., Fe. 20, 2014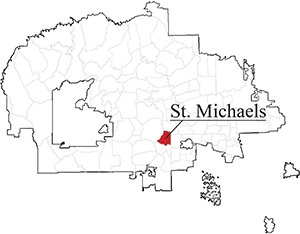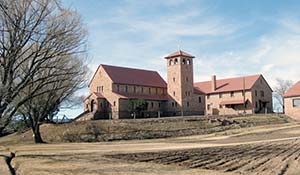 (Times photo - Cindy Yurth)
advertisement
A
t one time, say the people here, there was no window in the Window Rock. It was simply a big wall of stone.
At the foot of this stone wall lay coiled a huge, deadly serpent. It made its lair there because a certain plant grew there that it liked to eat. You can still find it today if you know where to look.
The people tried many times to drive the serpent out, but it would strike at them and turn them to stone. (You can still see them there, on top of and around the rock.)
The Wind grew tired of watching the serpent tyrannize the people and decided to help them. It blew very hard in the center of the wall until it blew a round hole in the rock, big enough for the people to drive the enormous snake through.
It's an apt metaphor for the thriving, largely urban chapter of St. Michaels, which contains Window Rock. If the chapter can just punch through the wall of bureaucracy, it's poised to take off like the wind.
"We're getting there," said Chapter President Curran Hannon.
More than any other chapter, with the possible exceptions of Shiprock and To' Nanees Dizi, St. Michaels would benefit from certification. The chapter contains two hotels, multiple restaurants, two grocery stores, several service stations, a thriving daily flea market and a host of small businesses, not to mention offices of every single tribal bureaucracy, since it houses the Nation's capital. If it could collect local taxes, there's no end of things it might do.
To read full story, pick up a Navajo Times at your closest newsstand or subscribe online.
How to get The Times: