Chapter Series
On the holy path
Lukachukai Chapter is blessed indeed
By Cindy Yurth
Tséyi' Bureau
LUKACHUKAI, August 8, 2013
(Editor's note: In an effort to chronicle the beauty and diversity of the Navajo Nation, as well as its issues, the Navajo Times has committed to visiting all 110 chapters in alphabetical order. This is the 46th in the series.)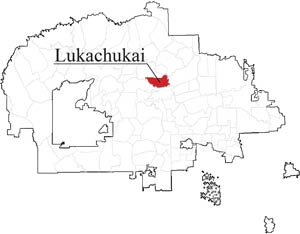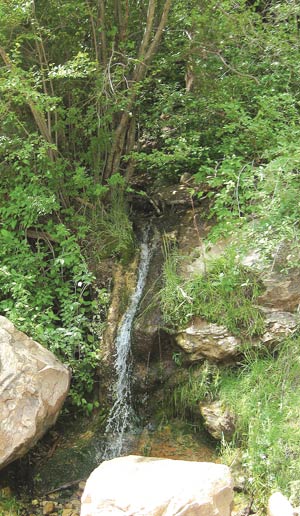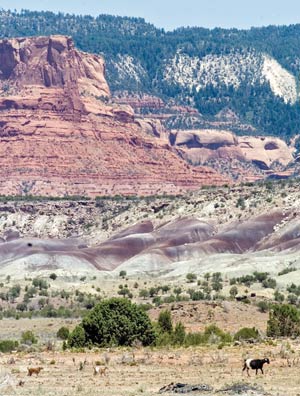 advertisement
I
s it because their chapter has such an embarrassment of riches the people of Lukachukai are so self-deprecating?
Ask them for a local landmark and they'll point you toward the infamous Butt Rock. Compliment them on their tall grass and sleek cattle, and they will inform you the drought hasn't spared their chapter ... just drive to the top of Buffalo Pass and you will see the big ponds dried to mudholes. Tell them they have a reputation in Central Agency for being as tall and handsome as their landscape, and they will laugh it off and point to a buck-toothed cousin.
For having a giant bare tl'aa' plunked in the middle of their chapter for all to see, they're awfully modest.
Then again, who needs to brag with surroundings like this? Sculpted salmon-colored cliffs give way to the shady green Chuskas. Even in the driest years, water leaps out of the ground at Waterfall Spring. The highest point on the Navajo Nation, 9,823-foot Roof Butte, juts like a tower out of the mountainside, offering views of three states. A sacred yei bicheii trail winds its way from the piñon-covered foothills to the mountaintop.
If the Lukachukaites want to keep the prettiest chapter on the Navajo Nation their own personal secret, one can hardly blame them.
Except that it's not a great way to develop economically.
"Tourism is something we're looking at for the future," said the chapter's community services coordinator, Gayla James. "After we get certified, we can explore that more."
There is a picnic ground at the top of 8,482-foot Buffalo Pass (which Chapter Secretary Herman Clement says is named after an actual buffalo herd that used to use it to traverse between feeding grounds in Shiprock and Lukachukai).
But it has been more of a liability than an asset to the chapter; people are constantly vandalizing it and leaving it littered.
A concession stand at the summit would most definitely turn a profit, and a guided hiking service would be a go if flatland tourists could be persuaded to take the steep, twisty pass between Shiprock and Canyon de Chelly.
advertisements
---
(The locals think nothing of the treacherous 13 miles, even having recently persuaded the BIA and Navajo Department of Transportation to keep it open all winter. Says James: "You should have seen it before it was paved" in the 1990s.)
Currently, the only businesses in Lukachukai are two convenience stores, including the charming, old-fashioned Totsoh Trading Post, where you can still buy a cradleboard for your baby, woolen yarn and blue enamelware.
Most people who live here work either at the BIE boarding school or commute to Diné College, Shiprock or even the Navajo Agricultural Products Industry south of Farmington. Clement said the president of neighboring Red Valley Chapter told him he once stood alongside Navajo Route 13 during rush hour and counted 300 cars headed east from Lukachukai toward Shiprock.
In spite of its isolation and lack of jobs, Lukachukai is one of the few Navajo Nation chapters actually gaining population, up 135 in 2010 over the previous Census in 2000.
"It's mostly young people," said James. "They're coming back from college and wanting to live here."
So finding jobs for them will be imperative.
In the meantime, frustrated youngsters — "I wouldn't call them gang members, just kids with spray paint," said Clement — are busy covering every vertical surface with graffiti.
"If we ask the BIA for a new sign, it will be covered with paint again in three days," Clement lamented.
"We need something for the kids to do besides baseball and rodeo," opined James. "Something they can do in the evenings."
In the meantime, there are worse problems to have than being one of the few young and growing chapters on the Navajo Nation.
Lukachukai at a Glance
Name — A corruption of the Navajo Lok'aa'ch'egai, "White Reeds Extending Out," possibly referring to the series of shallow ponds on the top of the Chuskas.
Land area — 97,000 acres
Claims to fame — The Navajo Nation's highest chapter, including Roof Butte, 9,823 feet. There is also a yei bicheii trail heading up the mountains.
Assets — Gorgeous scenery, a BIE school, two convenience stores, proximity to Diné College
Problems — Graffiti, feral horses. To address the latter, a voluntary horse sale is scheduled for Aug. 24 and 25, after which a roundup will be scheduled.
Famous sons — At least four Navajo Code Talkers were from Lukachukai: Samuel Tso, Willard Oliver, John Goodluck Sr. and John Kinsel Sr. Of these, only Kinsel is still alive. There are those who say the legendary Bigfoot makes his home in the mountains here, but Community Services Coordinator Gayla James says she's lived here all her life and never seen him.
Clans — Totsonii, Maii Deeshghiizhnii, To' Aheedliinii, T'achiinii, Kinlichiinii
Recent projects — Thirty-eight homes recently received electricity; 35 got bathroom additions and the chapter is now waiting for a water line to serve those families.