Back-to-back 1A champs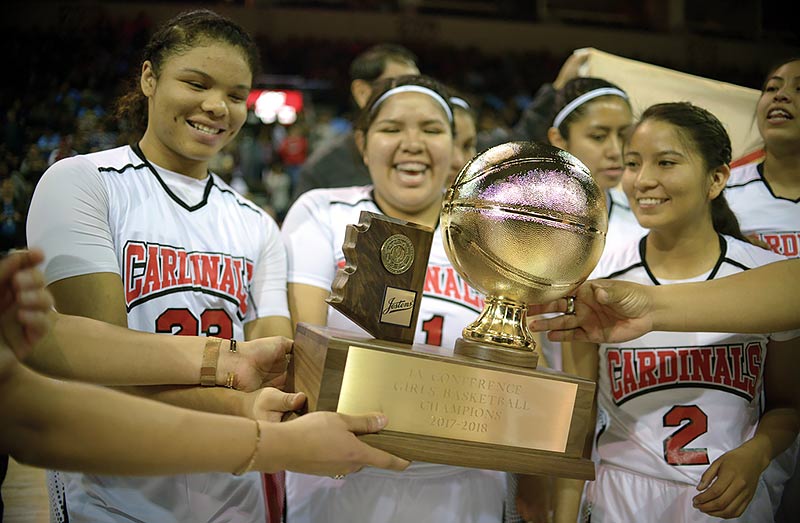 St. Michael girls match same feat as 'Legendary Team'
PRESCOTT VALLEY, Ariz.
Wanting to make a name for themselves, the current St. Michael Lady Cardinals repeated as the Arizona 1A girls state basketball champions.
The No. 2 seeded Lady Cardinals used a couple of runs to gain some distance against the Baboquivari Lady Warriors for a 60-44 win before a near capacity crowd at the Prescott Valley Event Center on Saturday.
"This is amazing," St. Michael senior post Delila Nakaidinae said. "It shows how much hard work and effort we put into our season. It's so nice to see all this come to fruition.
"This is unbelievable," St. Michael senior guard Jalynn Smith added. "We get to bring this back to our community again."
At halftime the Arizona Interscholastic Association honored the 1993 St. Michael girls state basketball championship team. That squad, which was coached by Sister Carol Elya, won the school's first state championship.
"I told the girls the 1992-93 team is a legendary team and you don't want to disappoint them," St. Michael coach Carl Adams said.
That legendary squad won back-to-back state titles. On Saturday, the current St. Michael squad matched that feat by doing what they do best.
"I felt like they played Cardinal basketball," Adams said as the Cardinals broke the game open with two momentum-building runs. "Before the game I told the girls do what you do, play your game and (the Lady Warriors) are the ones that have to keep up."
In the second stanza, St. Michael went on a 16-2 run to erase a one-point deficit as they led 32-19 on a transition basket by Star Anderson with 2:41 to go before the half.
After Baboquivari cut that lead down to 35-30 at the break, the Lady Cardinals came out of the locker room focused as they scored the first 13 points to go up 48-30 with 2:53 left in the third.
"We really needed those, especially coming out of halftime," Smith said. "With the score being kind of close we knew we needed to pull away."
With that 18-point lead, St. Michael matched Baboquivari basket for basket to pull out their 60-44 win.
Smith led St. Michael as she finished with 19 points while Anderson came off the bench and added 16. Nakaidinae almost finished with a double-double as she scored eight points and hauled in 17 boards.
"I am so happy for the seniors," Adams said. "I am glad they gave everything they got."
---