Defensive effort helps Winslow boys capture state title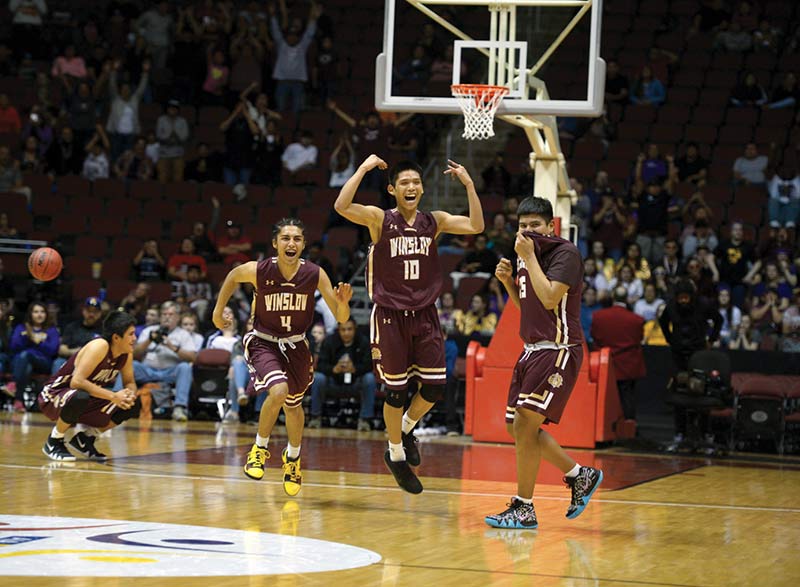 GLENDALE, Ariz.
The Winslow Bulldogs finally got a chance to cut down the nets at the Gila River Arena, the venue for the Arizona 3A boys state basketball championship game.
The Bulldogs made the Final Four round two years ago and last year they lost the state title game to Fountain Hills.
On Monday night, Winslow held top-ranked Blue Ridge to 36 points for three quarters as they held on for a 79-63 triumph to finally shake the monkeys off their backs.
"We just played with a sense of urgency, we closed out shooters and we got the 50-50 balls," Winslow coach ScottCorum said of delivering that early knockout punch.
"It was all about effort tonight," he said. "That's a great team that we just beat. I have lot of respect for Blue Ridge. They have great kids and they have a lot of class. I have a lot of respect for coach (Darryl) Suber and that program. They're an outstanding team but tonight we were so determined. We've been waiting for this moment for a year. We were not going to let it slip away from us."
Winslow only trailed once when Yellow Jacket junior guard Corey Enfield hit a three-pointer with 5:37 left in the opening quarter for a 7-6 Blue Ridge lead.
The Bulldogs, however, closed out the period on a 13-6 runwith sophomore forward Zachary Wagner scoring six of his eight points for a 19-13 cushion.
The second-seeded Bulldogs carried that momentum into the next two quarters with senior Ricardo Villanueva scoring 21 points for a 59-36 cushion heading into the fourth.
"Since last year I really didn't want to lose again," Villanueva said. "It took a lot out of us and it practically killed us. This year I was determined to do whatever it took to win."
Even with a sizeable 23-point lead after three quarters of play, Villanueva said it got a bit nerve-wracking as Blue Ridge made a run at them.
"We kept turning over the ball and we couldn't make free throws," he said.
The Yellow Jackets scored 11 of the first 12 points to start of the fourth and trailed 60-47 when senior star player Mason Berges hit two free throws with 5:19 left in the game.
Berges led Blue Ridge with 29 points including 13 in the fourth quarter. Junior Darrien Burnette added 18 for Blue Ridge.
For Winslow, Villanueva finished with a team-best 29 points. Junior point guard Darius James added 18 and Yoann Djassa chipped in 11 points and nine rebounds before fouling out with 4:21 left in the game.
"My defensive assignment was to shut down Berges and I did the best I could but I got called for some fouls," Djassa said.
Even though Blue Ridge made a run at them, the Winslow sophomore said they held their poise down the stretch.
"We started to crack under pressure but we kept our composure," he said.
---