MV senior's 2 free throws unseat defending champs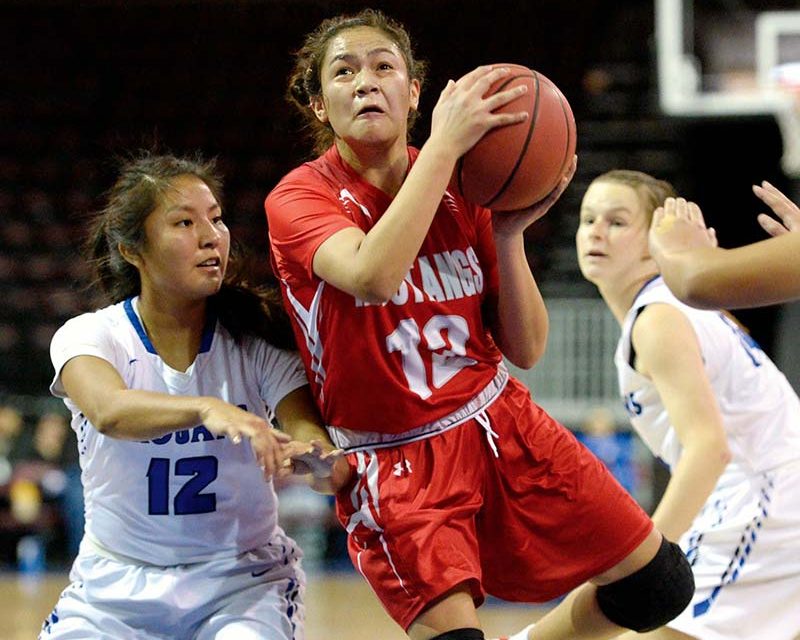 PRESCOTT VALLEY, Ariz.
With a state semifinal berth on the line, Monument Valley senior Lakeshia Begay had to steady her nerves at the free-throw line.
She connected on those two freebies with 8.9 seconds left as the MV Lady Mustangs unseated the defending 3A state champs Valley Christian Lady Trojans by a 46-45 count in a physical game at the Prescott Valley Event Center on Monday.
"There was a lot of pressure on me," said Begay, who finished with 14 points. "It was just me and the goal. I'm just glad that I made both free throws."
Before hitting those clutch free throws, MV went 3 for 9 at the free-throw line at the start of the fourth quarter. And while her teammates struggled, Begay knew that she would connect.
"I pictured myself doing this many times, practicing my free throws," she said, while noting that all she had to do was block out the external environment.
Before she made the second shot, her coach surprisingly called a timeout.
"When Keisha made her first one you could see her breathing was a little labored and her legs were a little shaky," Mustang coach Jason Franklin said. "I wanted to give her a little time to catch her breath and clear her head."
More importantly, Franklin, said he wanted to make sure his defense was set as Valley Christian had plenty of time to retake the lead.
"I know it was a little strange but I didn't want us to be in a situation to where we were celebrating that they would throw a long pass and get a layup," he said.
The Lady Trojans did get one look but that shot was off the mark.
"After all those years coming up short, it feels good to finally beat them," Begay said. "We couldn't do it without believing in ourselves."
Franklin said the community of Kayenta waited a long time for the Mustangs to make the Final Four round. The last time the Mustangs got this far in the tournament was nine years ago when they won the state championship in 2009.
"I am so happy for our school and community," he said. "This is something for them to get excited about. We're going back to Glendale and they'll be there to support us. I'm excited the girls get to experience this."
---