No. 12 seed MV to play Page in the 3A girls final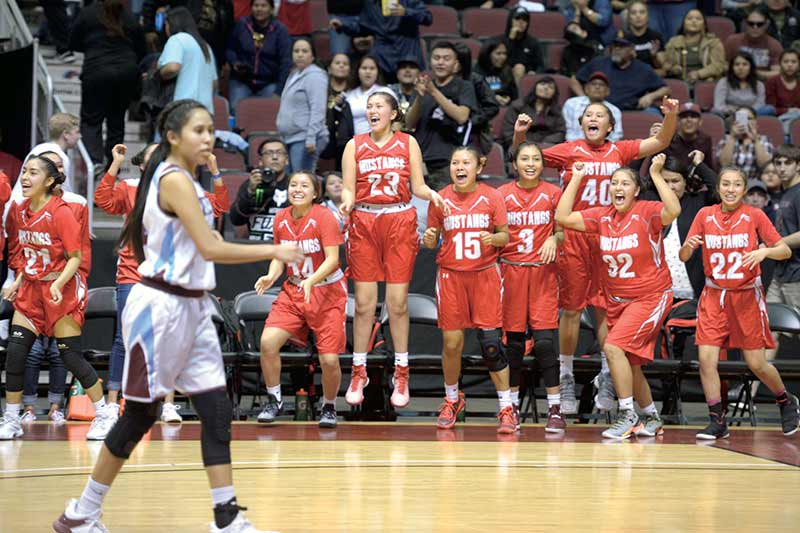 GLENDALE, Ariz.
How's this for irony.
The Monument Valley girls' basketball team started the season with Page and on Monday they will cap their season with Page.
Both teams reached the finish line of the Arizona 3A girls state playoffs by knocking out the two top-seeded teams at the Gila River Arena in Glendale last Friday night.
The Lady Mustangs will play Page on Monday in the championship game at 3 p.m.
No. 3 Page used a strong second half to pull away from No. 2 Window Rock as they advanced with a 66-47 win.
Monument Valley, the No. 12 seed, held a high-scoring Ganado team to only 11-of-50 shooting to post a 38-32 upset win.
This will be Page's second consecutive trip to the 3A finals while MV returns after a nine-year hiatus.
In last year's tournament finals, the Lady Sand Devils lost a barnburner to Chandler Valley Christian by a 41-40 count.
"It feels good to be back in the championship game," said Lady Sand Devil coach Ryan Whitehorse, whose team improved to 21-9 overall. "It was unfortunate that we lost the title by one point but since that game the girls have been working hard."
Behind the double-double posted by senior Lelisa Watson, the Sand Devils never trailed in this game. She finished with 19 points and 10 boards to pace the Lady Sand Devils.
"Coming into this game everybody on the team had a job to do," Watson said. "We had to come together and play tough defense and on offense we had to execute."
After one quarter of play, Page led 26-16 with Watson scoring nine of those points.
In the next stanza, Window Rock outscored Page by a deuce as they cut the lead down to 37-29 at the break.
In those first 16 minutes, the Sand Devils outrebounded Window Rock by a 19 to 9 margin, a stat that pleased Whitehorse.
"Early in the season they own the rebounding battle on us," the Page coach said of the Lady Scouts. "It didn't make sense to us because they really don't have a true post player and we're bigger than them."
For the game, Page nabbed 42 rebounds including 13 offensive boards that led to 20 second-chance points.
Window Rock, meanwhile, finished with 26 boards for the entire game.
"Those rebounds came in handy, especially on the defensive end because we really limited their opportunities," Whitehorse said.
In addition to Watson, Page also had Jacey Salabiye finish with 17 points while Myka Taliman added 10.
For Window Rock Venessa James and Jana Solee paced them as they finished with 16 points each.
"We just came up short," Window Rock Sharon Toadecheenie said. "Their shots were not going in. It just happens and it's one of those games where preparation was a key but we just didn't make our shots."
Monument Valley
After Ganado scored the opening bucket, the Mustangs let their defense do the talking for the rest of the game.
MV coach Jason Franklin said the game plan was to put pressure on the ball.
"They have some great shooters and girls that can really score," he said of Ganado. "But I felt like if we can pressure on them and get into their face a little bit that would slow the movement of their offense."
That tactic proved to be useful as the Hornets did not score again until the next stanza as MV led 8-2 after one quarter of play.
In the second, the Mustangs pushed their lead to 14-4 when freshman post Erynne Sells connected on 1-of-2 at the charity line with 2:40 left before the half.
Ganado finally got on track as they closed out the first half on a 5-2 run. The Hornets got a much-needed trey from Jefawn Eskeets with 2:12 to go and a minute later Jamika Coleman added a layup as they trailed 17-9 at the break.
At the start of the second half, Ganado freshman Abigail Benally hit two treys with her final one bringing her team within 21-17 at the 2:47 mark.
Needless to say, MV regained the momentum behind a pair of treys from Tayla Nez and Jazlyn Lane for a 29-19 cushion heading into the fourth.
Ganado made one final attempt to make a run at MV as they closed that gap down to 30-26 on Eskeets' third trey of the night with just over two minutes to play.
MV, however, did not buckle as they held on for the win by hitting 4-of-8 free throws down the stretch. They will play in the finals with a 15-15 record.
"We're in the state championship at point-five hundred," Franklin said.
Lane led MV with 11 points while Lakeshia Begay helped out with seven and junior Briana Gillis added six.
For Ganado, Abigail Benally finished with nine.
"We picked a bad day to play a game like this," Ganado coach Mike Bitsui said. "I am not making excuses but they knew what they had to do. We couldn't shoot and we couldn't take care of the ball. We just didn't play our game."


---