Winslow boys to face Blue Ridge in 3A state championship game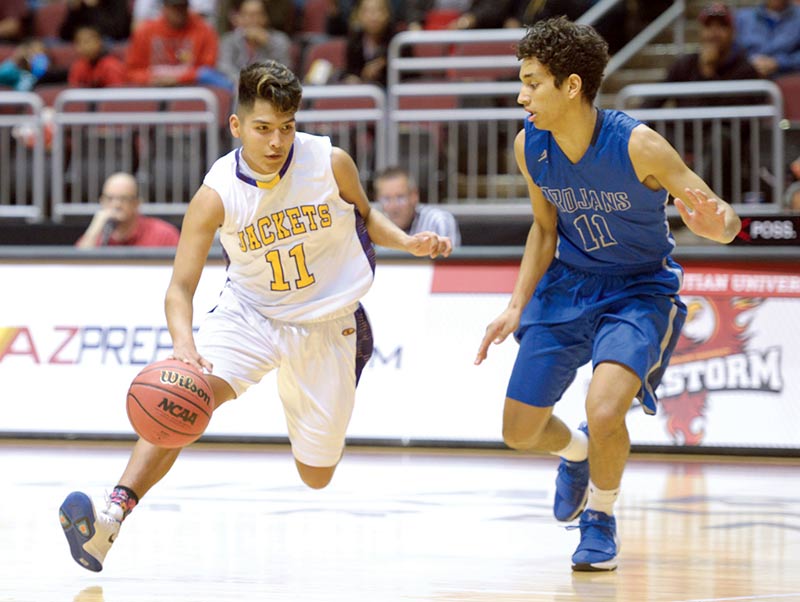 GLENDALE, Ariz.
After losing the Arizona 3A state title game last season with a core of underclassmen, the Winslow Bulldogs wanted another shot at it.
The No. 2 seed Bulldogs will get that chance on Monday as they will battle conference rival Lakeside Blue Ridge in the 3A finals, which is scheduled for 5 p.m. at the Gila River Arena in Glendale.
"It means a lot to us to get back in the finals," Winslow coach Scott Corum said. "That taste is still in our mouths, losing that championship game last year."
Corum said anything short of making this year's championship game would have been disappointing.
"Nobody really talked about it but it's been in our minds a lot," he said. "This year we approached things in a business-like manner to get there. The boys really worked hard to get her and I am so happy for them but we still have one more to go."
Winslow advanced in the championship game by taking out Chinle, the 3A North champions, before a capacity crowd at the Gila River Arena with a 68-57 victory.
Top-ranked Blue Ridge, meanwhile, posted a 59-55 over No. 4 Chandler Valley Christian in the top half of the bracket.
Chinle led 23-16 after one quarter but Winslow took the lead for good at 28-26 on a basket by Ricardo Villanueva with 4:03 left in the opening half.
"Chinle is a very good ball team and I have a lot of respect for what they do," Corum said. "They play hard and they play fast. We knew that we had to set the tone early because they had the bigger crowd. We wanted to get our crowd involved too."
Corum said it was their defense set the tone for them as they caused 15 turnovers, including eight steals.
"When we can cause turnovers that usually leads to easy buckets for us," he said.
For the game, Winslow scored 18 of their points off turnovers.
The Bulldogs had four players in double figures with Darius James leading the charge with 20 points as he made 7-of-9 shots.
"I've seen games where he's played games like that," Corum said of James' shooting percentage. "He's very streaky and he's so tough because he can pull up for a three or he can get to the basket."
Admittedly James said this was one his best performances all season, especially in that first half when he went 6-for-6 on the floor.
"I felt great," he said. "Honestly I really depend on my teammates. We knew we were going to face adversity and we were prepared for that."
In addition to James, Winslow also had senior Ricardo Villanueva finish with 17 while Yoann Djassa added 14 and Zach Wagner chipped in a dozen points.
"We worked as a team," Ricardo said. "We know that you can win a championship with one player so we all try to share the ball. We all know that we can hit shots."
Chinle, meanwhile, got 24 points from Angelo Lewis and 11 from Cooper Burbank.
"I think the little things hurt us," Chinle coach Raul Mendoza said. "We didn't stop the ball, get the rotation we needed on defense. Offensively we became impatient. I thought we did some things out of character."
Despite coming up short, Mendoza said there were a lot of positives to take from the 23-9 year they had.
"Overall we had a great season, being able to make it this far," he said. "It's just a little disappointing that we were not able to perform tonight."
---