Fort Thomas boys take out Red Mesa in 1A semifinals, play The Gregory School in finals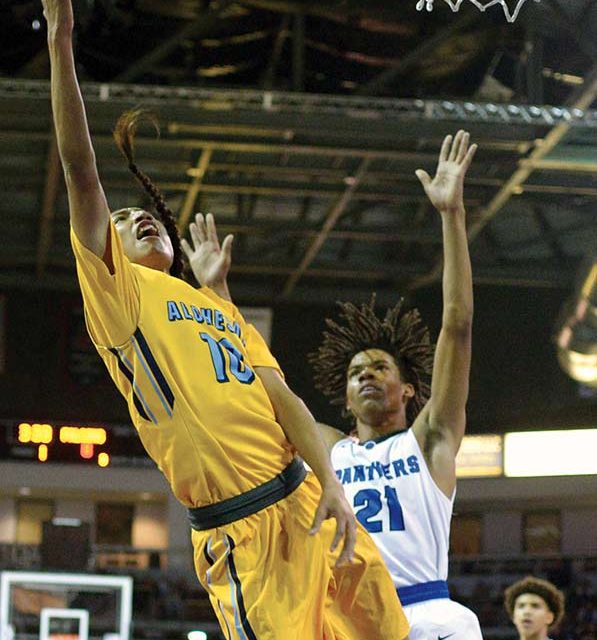 PRESCOTT VALLEY, Ariz.
In a game of runs, the Fort Thomas Apaches hit a barrage of treys late in the third to pull away from Red Mesa in the Arizona 1A boys state semifinals on Friday.
After Red Mesa tied the game at 23-all with 4:50 left in the third, Fort Thomas used another gear to post a 62-41 win at the Prescott Valley Event Center.
"I told my boys that we need to come out on fire," Fort Thomas coach Matthew Dona said. "The intensity was there and I told my boys that we had to keep it going."
Fort Thomas will play No. 1 The Gregory School at 1 p.m. today in Prescott Valley for the 1A championship trophy.
In their semifinal game, the Apaches enjoyed 16-2 lead in the early going of the second quarter, but Fort Thomas let Red Mesa back into the game as the 1A North champs tied the game on two free throws by senior Garrett Benally.
Nevertheless, Fort Thomas got back on track when they closed out the rest of the third stanza on a 14-2 run, thanks to their outside shooting. The Apaches hit three treys – two by sophomore Malachai Rogers – to go up 37-25.
Fort Thomas did not stop there as they opened the fourth with a trey by senior Matthew Anderson. After Red Mesa got a much-needed trey from senior Ricky Nakai and two free throws by Benally, the Apaches went on another run as their lead blossomed to 51-30 on a transition layup by senior Kobe Talgo with just over four minutes left in the contest.
"We made some mistakes and that allowed Red Mesa to come back," Dona said. "When we were up by 15 I told them to keep the ball up top and let them guard us."
With a 21-point lead the Apaches opted to run out the clock.
"I think we were a little hesitant when we couldn't hit anything," Red Mesa coach Hank Charleston said. "We had a few air balls but I was telling the guys that we needed to keep shooting."
Charleston contributed their poor shooting to the setup inside the Prescott Valley Event Center.
"In a regular gym the goal is near a wall but the goal is the middle of the arena," he said. "We had to make some adjustments because our shots were either too short or way too long."
Charleston said the end result was disappointing but they fought hard.
"We caught up but (Fort Thomas) started to hit their threes," he said.
Nakai led Red Mesa with 13 points while Benally added a dozen points.
For Fort Thomas, Rogers led the Apaches with 20 points, which included four treys. Talgo hit 8-of-8 free throws and finished with 18 points.
In the 2A boys bracket, the Alchesay Falcons advanced to the championship game for the second year in a row as they outlasted No. 2 seed Paradise Honors with a 67-61 win.
Alchesay will play No. 4 Rancho Solano Prep in today's finals at 5 p.m. at the Prescott Valley Event Center.
---