Back on top again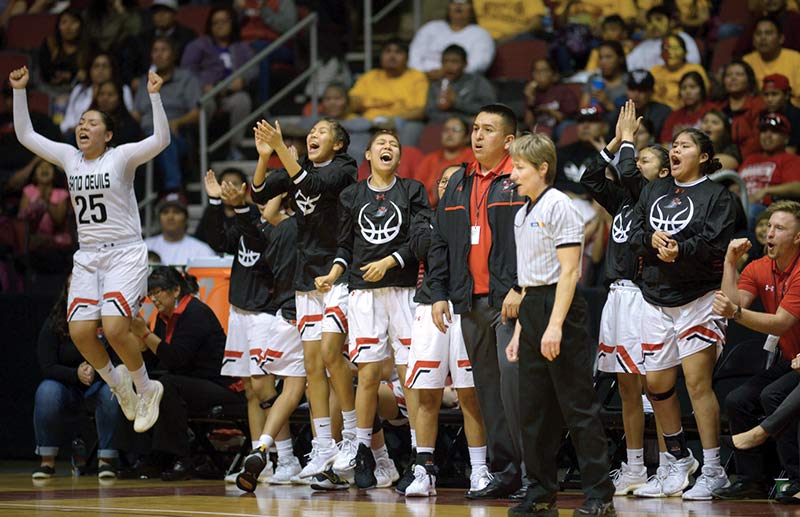 Page girls top archrival Monument Valley in 3A title game
GLENDALE, Ariz.
Not since 2015 has the Page girls' basketball team finish as the last team standing.
On Monday night, the Lady Sand Devils were stretched to the limit against archrival Monument Valley in the Arizona 3A girls state basketball title game.
After leading 31-30 at the end of the third quarter, Page restrained the Lady Mustangs for nearly seven minutes en route to their 41-34 win before a large crowd at the Gila River Arena.
"We pride ourselves on defense and that is what Page girls basketball is all about," Sand Devil coach Ryan Whitehorse said. "When girls come out and try out for the team that's the first thing we tell them. And if they can play defense it will take them a long way."
Whitehorse said winning the state title took a lot of hard work and his team was inspired to that after coming up one-point short last year to Chandler Valley Christian.
Page forward Lelisa Watson said it was pretty special to get the 'W' after last year's letdown.
"It feels really nice, especially with it being my senior year," Watson said.
Watson said she was part of that state championship team three years ago but this year she feels like she really earned it.
"My freshman year I kind of sat back and let all the seniors do all the work," she said.
Offensively, it was junior Mikala Benally who carried the team as she finished with a game-high 17 points.
During one stretch of the fourth she scored six straight points, including four free throws, for a 41-34 cushion.
"I felt like I needed to pick up my team, especially in that fourth quarter," Benally said.
As for her clutch free throws, Benally admitted that she was real nervous.
"I don't know but when I saw that there was four minutes on the clock I got real tingly," she said. "I was a little scared to shoot my free throws because they usually come off but everything went in for me today."
Winners of their last seven games, Page finished the year at 23-9 overall.
Monument Valley, meanwhile, dropped to 15-16 but head coach Jason Franklin said there was a lot be proud of as his team reached the championship game as the No. 12 seed.
"I felt like we were playing with house money a little bit (because) we're a year ahead of schedule," he said.
Franklin said the experience his underclassmen got in these last few weeks are going to be useful for next year.
"You can't get that anywhere but on that court, in that moment with that crowd," he said. "That does so much for their understanding of the game. It makes it more evident on why you sacrifice what you throughout a season and throughout a summer. At this point now it's just not coach speak anymore. They got to live it and they got t be part of it. That is going to be a huge motivator for four of my five returning starters."
Junior guard Tayla Nez led MV as she finished with 14 while Jazlyn Lane added seven.
MV is set to graduate three seniors, including starting post Lakeshia Begay. The other two seniors are Shandiin Harrison and Ryell Sells.
---