St. Michael girls survive test from No. 3 Ray in 1A semifinals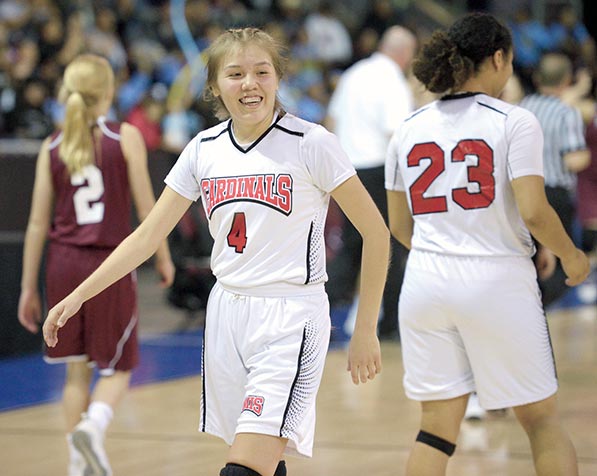 Lady Cardinals set to play Baboquivari in finals
PRESCOTT VALLEY, Ariz.
For the second year in a row, the St. Michael Lady Cardinals had to earn their spot in the Arizona 1A girls state championship game.
Last year, St. Michael eked out a 42-41 win over Fort Thomas and on Friday the Lady Cardinals outlasted No. 3 seed Ray by a 56-49 count at the Prescott Valley Event Center.
"Our semifinal games have always been tough for us," Lady Cardinal coach Carl Adams said. "Last year we barely won with Ali (Upshaw's) three-pointer with a few seconds left. Our semifinal games is always a tough game."
St. Michael will play No. 4 Baboquivari for the 1A state title at 11 a.m. this morning at the Prescott Event Center as the Lady Warriors defeated No. 9 seed Rock Point, 51-36, in the top half of the bracket.
As defending state champs, Adams said there was a lot of pressure for his girls to make today's final.
"It's kind of those things where everyone wanted us to be back in the state championship game," he said.
To get to their second consecutive state finals, St. Michael held a real good Ray team to only one point in the last four minutes in regulation.
"We just changed our defense," Adams said of their efforts in the waning moments.
The St. Michael coach said they stopped pressuring Shelby Yocum, Ray's best player. He said they were putting too much emphasis on stopping Yocum, which allowed her teammates open looks.
Yocum did finish the game with 14 points but Ray guard Savannah Rodriguez stepped up to the plate and hit eight field goals and finished with 18 points.
"We overplayed her too much and we forgot about everyone else," Adams said. "Everyone else stepped it up for their team but after that we played our style of play."
Adams said they went back to their 2-3 zone defense and pressured them as they took away the inside.
"A majority of their points came inside," he said.
St. Michael trailed Ray 18-16 at the end of the opening quarter and at the half Ray led 27-24.
"We started off real slow," St. Michael post Delilah Nakaidinae said. "We had a game plan but we didn't stick to it in the first half and it really hurt us."
In the second half, though, the Lady Cardinals were able to outscore Ray in each quarter as they took a 41-38 lead on Upshaw's three-pointer with 29 seconds left in the third.
They stretched that lead to 48-42 in a matter of seconds. Senior guard Jalynn Smith nailed a trey from the baseline and on the ensuing play, senior Chrissa Duncan came up with a steal and hit a lay-up for a six-point St. Michael lead.
Before that basket by Duncan, St. Michael had a tough time converting steals into points.
"It was frustrating because we worked hard on getting those steals," Smith said. "I don't know why we couldn't make a basket."
Smith led St. Michael with 19 points while Taylor Foster added 14 and Nakaidinae chipped in 10.
---